Britain is getting a new leader today. Will he steer country out of crisis?
Comments
By Saphora Smith with NBC News World News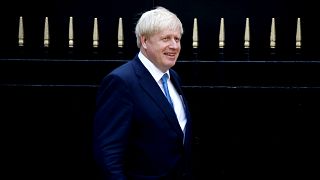 -
LONDON — His boyhood ambition is said to have been to become "world king." On Wednesday, Boris Johnson will take a step in that direction by becoming Britain's prime minister.
He will assume office following an audience with the queen at Buckingham Palace. This followed him being chosen as leader of the ruling Conservative Party on Tuesday.
Britain's 77th prime ministerwill then head to Downing Street, the official residence of Britain's leaders, where he is expected to give a speech before appointing key members of his government.
The 55-year-old, whose sister in an interview last year said her big brother's childhood ambition was to be "world king,"may find that being prime minister of the U.K. is challenge enough.
Johnson takes office at one of the most critical junctures in British politicsin post-World War II history.
The U.K. is bitterly divided over whether and how to leave the European Union, a seemingly intractable dispute that has strained party loyalties across the political spectrum. Johnson also faces escalating tensions with Iran after Iranian commandos seized a British-flagged oil tanker in the Strait of Hormuz last week. Earlier this month, Britain seized an Iranian vessel it suspected of transporting embargoed oil to Syria.
The former mayor of London has given himself three months to deliver Brexit, with Britain due to leave the European Union on Oct. 31 — regardless of whether his government can strike a new withdrawal deal with the bloc's negotiators. He is expected to appoint a cabinet of committed pro-Brexit lawmakers, while including some pro-E.U. voices in an effort to unite the Conservatives.
Nevertheless, even with a team of true-believers, it's going to be an uphill battle. Johnson hopes to renegotiate the E.U. withdrawal deal that his predecessor Prime Minister Theresa May painstakingly hammered out with the 27 other leaders of E.U. member states.
News
Moments after Johnson's election, the E.U. reiterated its position that it will not reopen the divorce deal negotiated by May. If he is unable to persuade E.U. leaders to change their minds, Johnson has pledged to leave the bloc without a deal.
Many experts and industry leaders warn that "no-deal Brexit" could spell economic catastrophe for Britain, not to mention its closest European neighbors. It could also trigger shortages of food, medicine and basic supplies.
In a speech following his election as leader of the Conservative Party, and consequently Britain's next prime minister on Tuesday, he pledged to unite and energize the country by delivering Brexit and defeating Labour opposition leader Jeremy Corbyn.
"We are going to get Brexit done on Oct. 31, and we are going to take advantage of all the opportunities it will bring in a new spirit of 'can do'," Johnson said.
"Like some slumbering giant, we are going to rise and ping off the guy-ropes of self-doubt and negativity," he added.
He defeated his opponent Foreign Secretary Jeremy Hunt by 92,153 votes to 46,656.