Trump sues to block New York law allowing Congress to get his state taxes
Comments
By Allan Smith with NBC News Politics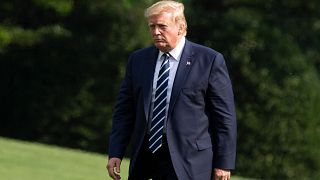 Copyright

Alastair Pike AFP - Getty Images

-
President Donald Trump on Tuesday filed a lawsuit seeking to prevent the House Ways and Means Committee from obtaining his state tax returns through a newly passed New York law.
The president's lawyers said the law was nothing more than an effort to get information about his personal finances to embarrass him politically.
The suit referred to an NBC News story on Monday to show that Ways and Means Chairman Richard Neal, D-Mass., was under pressure from fellow Democrats to make use of the new law.
The suit asks the court to provide a declaratory judgment that the committee "lacks a legitimate legislative purpose for obtaining the President's state tax information."
The lawsuit asserts that the law, called the TRUST Act, violates Trump's First Amendment rights.