Mueller last-minute request for aide to appear as witness during his testimony
Comments
By Mike Memoli and Alex Moe and Dartunorro Clark with NBC News Politics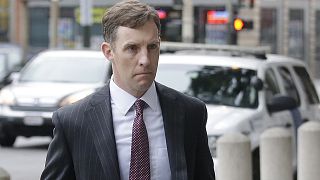 -
Former special counsel Robert Mueller has made a last-minute request to have one of his longtime aides appear as a witness during his highly-anticipated testimony before the House Judiciary Committee, one congressional source told NBC News on Tuesday.
Mueller has requested that Aaron Zebley appear with him when he testifies on Wednesday about his report on Russian interference in the 2016 election and collusion and obstruction by President Donald Trump.
The ranking Republican on the Judiciary Committee, Rep. Doug Collins of Georgia, said the move would plunge the hearing into "chaos" and may not be in compliance with House rules.
"This apparent stunt is unsurprising in light of the Democrats' repeated attempts to circumvent, misrepresent and flout the rules and procedures governing this committee's business," he said. "If Democrats believe it is the special counsel's responsibility to testify to his report, they have no ground for outsourcing that duty at the expense of our committee's integrity."
Muller is also expected to testify before the House Intelligence Committee. It is unclear if Mueller requested Zebley to appear as a witness at that hearing as well.
Zebley is especially close to Mueller, serving as his chief of staff at the FBI when Mueller was the director. Zebley is also an alum of the law firm WilmerHale, where Mueller worked after leaving the FBI.
Zebley followed Mueller to the Justice Department when he was tapped to be special counsel in 2017. Zebley is also a former FBI agent who was involved in an international hunt for al Qaeda terrorists before the Sept. 11, 2001, terrorist attacks.