Ivanka misspells United Kingdom in Boris Johnson congratulations tweet
Comments
By Rachel Elbaum with NBC News World News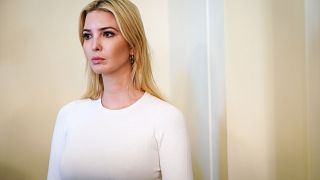 -
LONDON — As soon as it was announced that Boris Johnson would be the next prime minister of the United Kingdom, messages of congratulations poured in from notable officials from around the world.
But one tweet really stuck out.
"Congratulations @BorisJohnson on becoming the next Prime Minister of the United Kingston," tweeted Ivanka Trump, misspelling Kingdom as Kingston.
Not long after, the tweet was taken down and replaced with one bearing the correct spelling.
The gaffe drew laughs on Twitter, where Britons were quick to point out her mistake. Kingston is the capital of Jamaica, and Kingston upon Thames is leafy area southwest of London.
"There was a fleeting hope that last few weeks had all been a misunderstanding & Johnson had been a candidate for a hitherto obscure municipal post in SW London," tweetedthe Guardian newspaper's diplomatic editor Patrick Wintour.
Ivanka Trump's father, President Donald Trump, often includes spelling mistakes, errant capitalizations and typos in his tweets.
She also posted on Instagram a photo of Johnson and her standing together with the message of congratulations and the U.K. flag in the background.
Ivanka Trump, who is a senior adviser to her father, has taken an increasingly visible role in his administration.
She accompanied him on his recent trip to Asia and the G-20 summit, where she met world leaders, including North Korean leader Kim Jong Un.
Johnson's was selected on Tuesday as leader of the Conservative Party, and therefore prime minister, in an election in which only the 160,000 members of the party could take part.
He will assume the role on Wednesday after his predecessor, Theresa May, formally resigns.