House Dems demand answers from Hope Hicks over 'apparent inconsistencies' in her testimony
Comments
By Jane C. Timm and Tom Winter with NBC News Politics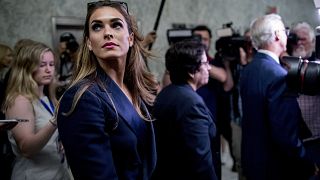 Copyright

Andrew Harnik AP file

-
House Democrats are demanding answers from former Donald Trump aide Hope Hicks after newly unsealed documents showed "apparent inconsistencies" with her congressional testimony about hush-money payments to adult film star Stormy Daniels during the 2016 campaign.
House Judiciary Committee Chairman Jerrold Nadler sent Hicks a letter on Thursday, calling on her to explain her June testimony to the panel that she had no knowledge of payments to Daniels and that she hadn't discussed them with the president or others.
Documents unsealed earlier on Thursday revealed that the FBI believed Hicks and the president were both involvedin the payouts arranged by Michael Cohen, the president's former personal attorney and fixer. Cohen is serving a three-year prison sentence for slew of crimes, including breaking campaign finance laws by hiding payments to Daniels and another woman who also claimed she had an affair with Trump. The president has denied the affairs.
"As I reminded you at the outset of your interview, anything other than complete candor can have very serious consequences," Nadler wrote in his letter, noting that lying to congressional investigators is a crime.
Hicks, a spokesperson for the Trump campaign who later served as White House communications director, was interviewed by the Judiciary Committee behind closed doors last month. The committee later released a transcript of her interview.
Pressed by Texas Democrat Rep. Sheila Jackson Lee during the hearing, Hicks repeatedly denied she had witnessed conversations between Trump and Cohen about Daniels. Hicks' attorney interjected to clarify that the question was specifically about Hicks work on the campaign, and Hicks again said that the answer is no.
"Given the apparent inconsistencies between your testimony and this evidence, I would like to give you an opportunity to clarify your testimony on a voluntary basis, prior to considering compulsory process," Nadler wrote on Thursday, hinting at a potential subpoena. He gave her a deadline of August 15th.
In a statement, Hicks' lawyer denied any wrongdoing.
"Reports claiming that Ms. Hicks was involved in conversations about 'hush money' payments on October 8, 2016, or knew that payments were being discussed, are simply wrong," said her lawyer Robert Trout. "Ms. Hicks stands by her truthful testimony that she first became aware of this issue in early November 2016, as the result of press inquiries, and she will be responding formally to Chairman Nadler's letter as requested."
Thursday's court documents — unsealed from the case against Cohen over campaign finance violations — describe a "series of calls, text messages, and emails" among Cohen, Trump, Hicks, Daniels' attorney Keith Davidson and David Pecker, an executive from the company that published the National Enquirer at that time.
"Based on the timing of these calls, and the content of the text messages and emails, I believe that at least some of these communications concerned the need to prevent Clifford from going public, particularly in the wake of the Access Hollywood story," an FBI agent said in the court documents.
The documents also reveal that the FBI interviewed Hicks about her involvement. She told the FBI she couldn't recall a series of phone calls of which the FBI said it has records.