Iran seizes foreign oil tanker in Strait of Hormuz, state TV reports
Comments
By Saphora Smith and Ali Arouzi and Associated Press with NBC News World News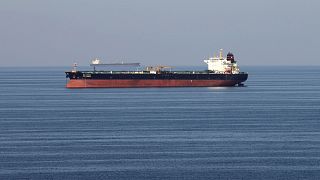 -
Copyright

Hamad I Mohammed
TEHRAN — Iran's Revolutionary Guard forces have seized a foreign oil tanker accusing 12 crew members of smuggling oil, state TV reported on Thursday.
The seizure comes as tensions mount between the United States and Iran over the unraveling nuclear deal between Tehran and world powers.
The ship was seized in Larak Island in the Strait of Hormuz, a strategic waterway off Iran's coast which separates the Persian Gulf and the Gulf of Oman, according to broadcaster IRIB. The report added that the Revolutionary Guards had towed the vessel on Sunday after a distress call and it was later seized for fuel smuggling.
The U.S. Fifth Fleet said they were aware of reports that Iran's Revolutionary Guard had seized a foreign oil tanker with 12 crew, but did not comment further.
The report didn't identify the tanker or say which country the crew were from. However, the Associated Press reported earlier this week that tracking data showed that an oil tanker based in the United Arab Emirates traveling through the Strait of Hormuz drifted off into Iranian waters and stopped transmitting its location last weekend.
But an Emirati official told NBC News on Tuesday that the "tanker in question is neither UAE owned nor operated, does not carry Emirati personnel, and did not emit a distress call."
The incident is the latest to be reported in or near the Strait of Hormuz.
Earlier this month, several Iranian boats approached andattempted to stop a British commercial vessel sailing through the Strait of Hormuz, but the Iranian vessels were driven away by a British military ship, a senior U.S. defense official and a British government spokesperson said.
The U.S. has also blamed Iran for what the military said was a limpet mine attack on two oil tankers in the Gulf of Oman in June. Iran has denied any involvement in the incident.
A third of the world's seaborne oil shipments, and 20 percent of oil traded worldwide, pass out of the Persian Gulf through the Strait.
Ali Arouzi reported from Tehran, Saphora Smith from London.