Trump calls impeachment vote 'stupid,' crowd chants 'send her back!' at Omar
Comments
By Jonathan Allen with NBC News Politics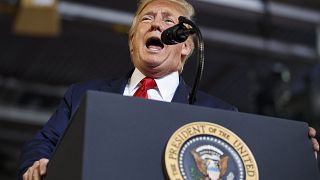 Copyright

Carolyn Kaster AP

-
WASHINGTON — One day after the House voted to condemn his racist tweets, and just hours after it killed a resolution to impeach him, President Donald Trump resumed his rhetorical assault on four freshman Democratic women lawmakers Wednesday at a re-election rally in Greenville, N.C.
"These left-wing ideologues see our nation as a force for evil," Trump said of Reps. Alexandria Ocasio-Cortez, D-N.Y., Ilhan Omar, D-Minn., Ayanna Pressley, D-Mass., and Rashida Tlaib, D-Mich. Later, he said they are helping to "fuel the rise" of a "dangerous, militant hard left" — connecting them to violence by the group Antifa, even though there is no link.
On Wednesday, he chided Tlaib for calling him a "motherf----er" — "that's not somebody that loves our country," he said — blasted Ocasio-Cortez for referring to squalid, overcrowded migrant detention facilities on the U.S.-Mexico border as concentration camps, and Pressley for encouraging people of color to speak up for one another. He also accused Omar of being soft on terrorism.
"Omar laughed that Americans speak of al Qaeda in a menacing tone," he said. "You don't say America with this intensity. You say al Qaeda makes you proud. Al Qaeda makes you proud. You don't speak that way about America," he added, referring to her remarks in a 2013 interview.
The crowd broke into a chant of "Send her back!"
As the Constitution requires of members of the House, all four of them are U.S. citizens, and all but Omar, who immigrated from Somalia as a child, were born in the United States. Pressley, who hails from Cincinnati, is black. Ocasio-Cortez, who is from New York, is of Hispanic descent, and Tlaib, whose parents are Palestinian, was born in Detroit.
Politifact, an independent fact-checking organization, has rated his past characterization of Omar's remarks as "false."
The audience didn't appear to have read that analysis, to agree or to care.
Shortly before the rally began, the House voted to table — or kill — a resolution offered by Rep. Al Green, D-Texas, to impeach Trump over his remarks about the women. The House voted 332 to 95 to table the measure, with Rep. Peter DeFazio, D-Ore., recording a "present" vote. All of the votes against killing Green's effort came from Democrats, while 137 Democrats sided with Republicans.
"That was a slaughter, but many of those people that voted for us this afternoon in somewhat of a sneak attack ... I want to thank them because they did the right thing for our country," Trump said. "I want to thank those Democrats because many of them voted for us."
Trump called the impeachment vote "the most ridiculous project I've ever been involved in," adding: "How stupid is that?"
Over the weekend, Trump tweeted the lawmakers should "go back" to the countries he said they came from, touching off a firestorm in Washington. Trump has acknowledged that his stream of tweets and subsequent remarks along similar lines were designed to get Democrats to "embrace" the four women, who are among their party's most politically progressive lawmakers.
Through their own branding, sometimes combative political styles and Republican efforts to elevate them as foils, Ocasio-Cortez, Omar and Tlaib have become high-profile players in national partisan warfare in their short time in Congress.
Now, Trump hopes to make them the face of the Democratic Party as he seeks re-election.
But his remarks have crossed a line even with some of his Republican allies. Four members of the House GOP voted with a unanimous Democratic caucus and independent Rep. Justin Amash of Michigan to rebuke Trump on Tuesday. Shortly before that, Democrats showed their solidarity with House Speaker Nancy Pelosi, D-Calif., by voting unanimously to reject a Republican effort to strike her words from the Congressional Record after she referred to Trump's commentary as "racist."
Before Trump spoke, his daughter-in-law Lara Trump led the crowd in a joint expression of disdain for the lawmakers.
"If you don't love our country, the president said it, you can ..." she said, allowing the crowd to finish the sentence.
"LEAVE," they roared.