Trump part of 'wider trend' to prevent migration
Comments
By Saphora Smith and Yuliya Talmazan with NBC News World News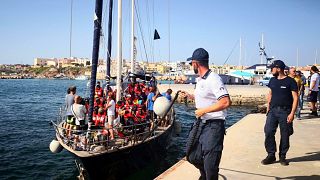 -
LONDON — President Donald Trump has made his desire to crack down on asylum-seekers and economic migrants a central part of his policy platform ahead of the 2020 election.
But it is not just the U.S. where immigration has become a controversial and dividing subject: The president's hard-line approach is mirrored in developed democracies around the world — particularly in Europe.
Hours after Trump moved to end asylum protections for most Central American migrants on Monday, sparking an outcry from rights groups, Italy's nativist interior minister Matteo Salvini continued to beat the drum of anti-immigrant policies.
"Why do we always need to find an excuse to bring illegal immigrants to Italy," he tweeted, responding to a trade union leader who had criticized his stance.
Salvini — described by some asthe "European Trump" — is one of several European leaders who have pursued unashamedly anti-migrant policies such as erecting fences and detaining asylum seekers and blocking rescue ships carrying immigrants from docking in their ports. The populist leader has accused people working on those boats of being complicit with smugglers and has called for the vessels to be "sunk."
In nearby Hungary, asylum-seekers face violence during operations to push them back to the border and are detained indefinitely in "substandard" border camps without the possibility to challenge their detention, according to Human Rights Watch.
"Trump is part of a wider trend ... toward reducing the rights of asylum seekers and refugees and attempting to prevent migration," said Catherine Woollard, secretary general of the European Council on Refugees and Exiles.
This trend comes at a time when some 70.8 million people are forcibly displaced around the world — a record number that is growing faster than the global population, according to the U.N.
This issue became a global story in 2015 when more than a million people — many fleeing war and persecution in the Middle East and Africa — arrived on Europe's shores, sparking a political crisis. In December that year, the U.N. estimated that almost4,000 people were presumed to have drownedattempting to reach the European Union.
The political mismanagement of the surge of arrivals and the lack of an equitable system to share responsibility for asylum-seekers across the E.U., caused rifts within the union as lawmakers in countries such as Italy said they were struggling to cope.
This mismanagement "fed a sense of peril and panic among many in the broader public and those fears and concerns — some legitimate — about the way things were handled were preyed upon by racist xenophobic forces," according to Judith Sunderland, associate director of the Europe and Central Asia division at Human Rights Watch, a pressure group.
Since becoming president Trump has sought to restrict the ability of asylum-seekers and refugees to reach the U.S., including capping the number of refugees admitted to the country to 30,000 last year — the lowest ceiling in four decades, according to Human Rights Watch. The latest rule means asylum-seekers at the southern border who passed through another country and did not seek asylum there will not be eligible for protection in the U.S.
In Europe, even as the number of arrivals has dropped significantly since 2015, leaders of the 28-member states have failed to agree upon a system that would fairly share the responsibility for those arriving.
The bloc is debating similar measures to Trump's restriction on asylum, by attempting to make it easier to send people back to "safe third countries" through which they travelled and could have applied for asylum.
In 2016, the European Union made such a deal with Turkey, its first such third-party deal outside the bloc. This meant that asylum-seekers who reached Greece from Turkey could be returned there.
Human rights groups criticized the deal and questioned whether Turkey can be deemed a "safe" country for refugees.
Europe and the U.S. are not the only ones attempting to outsource responsibility for asylum-claims to third countries. In Australia, anyone intercepted at sea attempting to reach the country can be shipped to Pacific islands where they are then detained while their claim is processed.
All of these policies, whether from the U.S., Europe or Australia, reflect the same impulse to "deflect responsibility" for those in need, according to Sunderland.
Rich, advanced industrialized countries want poorer countries to host more refugees and take on a greater share of migration responsibility, she explained.
Some European lawmakers — including former Austrian Chancellor Sebastian Kurz — have said Europe should learn from Australia's immigration model. Boris Johnson, the frontrunner to become the next U.K. prime minister has said he would like to emulate the Australian points-based immigration application system.
"You can safely assume that there is a learning of bad practice and problematic ideas from country to country to limit protection," said Woollard.
Sunderland said that Europe's plans to nominate "safe third countries" do include some safeguards, such as ensuring that people can apply for asylum there and ensuring that they have more of a link to that country than just passing through it.
By contrast, Trump's executive order "does not even have the thin veneer of rights respectability of the European system," she said. "What Trump is doing is kind of a cruder version of what the E.U. has been trying to do."