American scientist found dead in Greece had multiple broken bones, found in ventilation drain
Comments
By John Papadopoulos and Minyvonne Burke with NBC News U.S. News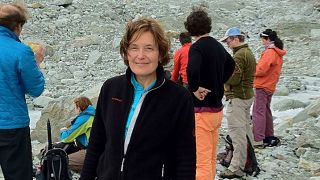 Copyright

Facebook/suzanne.eaton.33
An American scientist found dead in Greece suffered multiple broken bones and may have been sexually assaulted before she was choked to death, authorities in the country said.
Suzanne Eaton, 59, was discovered July 8 in an abandoned World War II bunker in a rural area outside the port city of Chania. She was last seen July 2 at the Orthodox Academy of Crete where she was attending a convention, Constantinos Lagoudakis, a police official, said at a news conference Tuesday.
An autopsy found that Eaton died from suffocation, but Lagoudakis said there were also signs of a "violent criminal act and possibly sexual abuse. "Police also believe Eaton was left in the area after tire tracks from a car were discovered, according to Lagoudakis. A 27-year-old suspect, who has not been identified, has been arrested in connection to Eaton's death. Authorities said Monday that the man was brought in for questioning and eventually confessed to the crime. He has not yet been charged.
A second man has also been brought in for questioning, Lagoudakis said. Eleni Papathanasiou, Crete Police Major, said at Tuesday's news conference that the suspect told police that he saw Eaton walking on July 2 and was "motivated by sexual satisfaction. "The suspect said he hit Eaton twice with his car and put her in the trunk, according to Papathanasiou. Eaton was apparently unconscious when she was put in the vehicle. The suspect said he then drove to the bunker and allegedly raped her before leaving her body in a ventilation drain, according to Papathanasiou. Papathanasiou said forensic evidence showed that Eaton died from suffocation but also had multiple broken bones in her ribs and face as well as injuries to both hands.
The suspect told police that after leaving the bunker he drove to a nearby graveyard where he "carefully cleaned the trunk of his car," Papathanasiou said. 
Eaton, who was married with two sons, worked at the Max Planck Institute in Dresden, Germany. Her body is scheduled to be flown to Frankfurt on Tuesday. 
Papadopoulos reported from Athens, Burke from New York.