R. Kelly facing federal charges because his alleged sex crimes involve interstate activity
Comments
By Danny Cevallos with NBC News U.S. News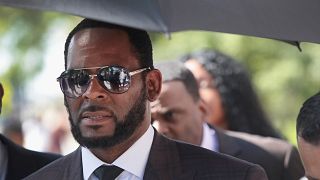 Copyright

Scott Olson Getty Images

-
A five-count superseding indictment charging singer R. Kelly with racketeering and other crimes, including sexual exploitation of children, also accuses him of violating the Mann Act for allegedly coercing and transporting women and girls across state lines to engage in illegal sexual activity.
In Kelly's case, the Mann Act serves two distinct purposes in his indictment unsealed Friday in federal court in Brooklyn: as a "predicate" crime included within his racketeering charges and as a separate violation of the Mann Act itself.
The federal statute outlaws prostitution and unlawful sexual activities when they involve interstate or foreign travel.
Kelly is charged with violating the statute by transporting a victim interstate and violating New York law by recklessly endangering the victim and exposing her to infectious venereal diseases. He is accused of violating other sections of the Mann Act by coercing or enticing a child to engage in unlawful sexual activity and of transporting a child in interstate commerce for similar reasons.
Congress passed the Mann Act of 1910 to "put a stop to a villainous interstate and international traffic in women and girls." In 1978, Congress expanded the Mann Act to prevent the commercial sexual exploitation all children, not just girls. Then in 1986, Congress again expanded the law to criminalize noncommercial exploitation, such as transporting children for private child pornography, whether or not the production was for commercial purposes.
Most sex crimes are prosecuted by state and local authorities rather than by the federal government. In the federal prosecution of Jeffrey Epstein in New York, Epstein's lawyers have already argued that Epstein's sex trafficking charges are more appropriately prosecuted in state court and not federal court.
But Congress has long asserted the power to prosecute sex crimes under its constitutional power "to regulate Commerce … among the several States." According to the Supreme Court, that includes the power to regulate activities that substantially affect interstate commerce, including "purely local activities that have a substantial effect on interstate commerce." In an early case upholding the constitutionality of the Mann Act, the Supreme Court established Congress's authority "to keep the channels of interstate commerce free from immoral and injurious uses."
So while most sex crimes are investigated and prosecuted locally, the federal government also has jurisdiction over sex trafficking cases or sex crimes with an interstate component and can step in and prosecute in selected cases.
The prosecution of Kelly and Epstein are examples: both were investigated by local authorities for their crimes, but federal authorities eventually took notice of these high-profile cases and used federal criminal laws to additionally prosecute these defendants for the interstate nature of their crimes.