Trump claims tour of immigrant detention centers showed they are 'well run and clean'
Comments
By Allan Smith with NBC News Politics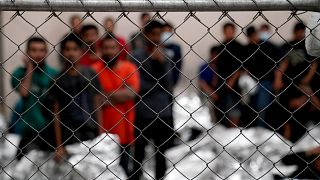 Copyright

Veronica G. Cardenas Reuters

-
President Donald Trump on Sunday claimed a recent tour of two immigrant detention centers "showed vividly ... how well run and clean" the facilities are.
"Friday's tour showed vividly, to politicians and the media, how well run and clean the children's detention centers are. Great reviews!" Trump tweeted, adding that the "adult single men areas were clean but crowded — also loaded up with a big percentage of criminals."
"Sorry, can't let them into our Country," Trump said. "If too crowded, tell them not to come to USA, and tell the Dems to fix the Loopholes - Problem Solved!"
Trump was referencing Vice President Mike Pence's tour on Friday of two Texas detention facilities in McAllen and Donna, which was joined by several Republican members of Congress and the news media.
Pence saw conditions at the McAllen facility that included "nearly 400 men crammed behind caged fences with not enough room for them all to lie down on the concrete ground," The Washington Post reported.
The men lacked mats or pillows to lay on and a strong odor permeated the air, the newspaper reported. Some men shouted to reporters and the delegation that they had been held in the facility for 40 days or more and that they were hungry and wanted to brush their teeth. The men had to ask permission from Customs and Border Protection agents to drink water, according to the paper.
At the Donna facility, which was just two months old, the conditions appeared to be slightly better, the Post reported.
"I was not surprised by what I saw," Pence said at a news conference after the tour. "I knew we'd see a system that was overwhelmed. This is tough stuff."