Sanders says Pelosi is being 'a little' too tough on progressives like Ocasio-Cortez
Comments
By Ben Kamisar with NBC News Politics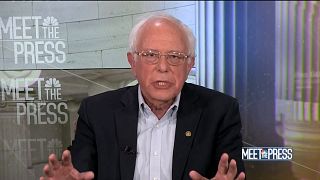 -
WASHINGTON — Sen. Bernie Sanders, I-Vt., said Sunday that House Speaker Nancy Pelosi is being "a little" too tough with her recent criticisms of progressive House freshmen like Rep. Alexandria Ocasio-Cortez, D-N.Y.
Asked about growing tensions between the House Democrats, Sanders said that he supports "Alexandria and the other women's desire to bring more people, especially young people, working class people, into the Democratic Party." And when asked if Pelosi is being too tough on those freshmen lawmakers, Sanders replied, "I think a little bit."
"You cannot ignore the young people of this country who are passionate about economic and racial and social and environmental justice. You've got to bring them in, not alienate them," Sanders said in an appearance on "Meet the Press."
There's long been a tenuous alliance between lawmakers like Ocasio-Cortez and House leadership like Pelosi on both the direction and the strategy of the Democratic Party.
But it's been a raucous few weeks for the relationship between those sides. Pelosi criticized the group of progressive Democratic lawmakers — Ocasio-Cortez and Reps. Ilhan Omar, D-Minn., Rashida Tlaib, D-Mich. Ayanna Pressley, D-Mass. — in the New York Times by arguing that "all these people have their public whatever and their Twitter world."
"But they didn't have any following. They're four people and that's how many votes they got," she added.
Ocasio-Cortez responded in The Washington Post days later by criticizing the "explicit singling out of newly elected women of color."
The feud is showing no signs of slowing down, with the House Democratic caucus tweeting out criticism of Ocasio-Cortez's chief of staff this weekend.
Sanders joined "Meet the Press" days after NBC News/Wall Street Journal poll of the Democratic presidential primary race showed Sanders tied with Sen. Kamala Harris, D-Calif., in third place behind fellow Sen. Elizabeth Warren, D-Mass., and former Vice President Joe Biden.
While Sanders had the progressive lane to himself in the 2016 presidential race, he has to split that pie with a whole host of Democratic presidential hopefuls.
In that poll, Warren is leading Sanders among those who say they want a nominee who proposes large-scale change.
When asked about his response to Warren's lead among those voters, Sanders demurred.
"Elizabeth is a good friend of mine, and all I can say is the following. What people understand is that for decades now there have been great speeches, great legislation, great plans about how to move the working class of this country forward. And yet in the last 30 years, unbelievably, the top 1 percent has seen a $21 trillion increase in their wealth, while the bottom half have fallen even further behind," he said.
"What we need is a political revolution. And I think I am the only candidate who has been clear about that, who has the capability of doing that and defeating Donald Trump in the process."