Acting USCIS head Ken Cuccinelli defends ICE raids, but mum on details
Comments
By Allan Smith and Suzanne Gamboa with NBC News Politics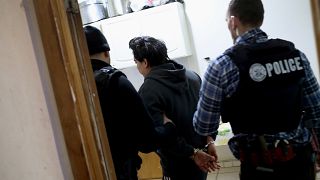 Copyright

John Moore Getty Images file

-
Trump administration officials on Sunday defended the need for planned immigration raids expected to take place in 10 cities across the country even as they remained tight-lipped about details on the widespread action.
Ken Cuccinelli, acting director of U.S. Customs and Immigration Services, said Sunday on CNN's "State of the Union" that he would not divulge any operational details of the Immigration and Customs Enforcement raids, additionally choosing not to answer a question about whether immigrant families will be separated.
"In the same way I wasn't willing to talk about operational details, that would be an operational detail that I'm not going to comment on," he said. "There are a million people, including families, with removal orders. They're — the priority remains for ICE to get at criminals."
Cuccinelli emphasized that the agency was prioritizing violent criminals, as opposed to the undocumented immigrant population in general.
While it was unclear Sunday morning whether the planned raids were underway in the targeted cities, New York City Mayor Bill de Blasio tweeted Saturday that his office received reports of "reportedly unsuccessful ICE enforcement actions" in the neighborhoods of Harlem and Sunset Park.
Acting ICE Director Matt Albence told Fox News on Sunday that while he would not discuss the specifics of the raids, the agency is "doing targeted enforcement actions against specific individuals who have had their day in immigration court and have been ordered to be removed by an immigration judge."
Asked on "Fox News Sunday" how many people ICE is targeting, White House counselor Kellyanne Conway also said she wouldn't "discuss operational details" and added that ICE "does this every single day; it's called enforcement action."
Meanwhile, community organizations began to make preparations for the expected raids. In Houston, a string of churches, a number of them African American, opened their doors for anyone wanting to take refuge. The churches also assembled supplies to deliver to families too afraid to leave their residences for groceries or other necessities.
R.C. Stearns, a pastor at Living Water International Apostolic Ministries, said Saturday that he and other church leaders are offering the refuge because "it's what Christ would do."
Stearns said he and others were praying that the president would have a change of heart.
In the weeks since Trump announced planned raids, and then delayed them, Congress passed a $4.6 billion emergency spending bill to provide resources and support for the influx of asylum-seekers on the southern border.
"We're in the midst of food, water, baby supplies, household utensils and a place of refuge," Rep. Sheila Jackson Lee, D-Texas, said at a news conference Saturday announcing the churches' preparations. "We are standing with pastors who have committed to opening their doors if there are people who are in jeopardy where they are."
"This order of mass deportation is being used as a political toy," she said.