Trump, Kamala Harris come to Pelosi's defense after AOC criticism
Comments
By Dareh Gregorian with NBC News Politics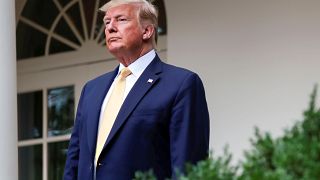 Copyright

Carlos Barria Reuters

-
President Donald Trump and one of the women vying for his job, Democratic Sen. Kamala Harris, have found common ground — neither believe House Speaker Nancy Pelosi is racist.
Trump made the comments defending frequent foe Pelosi when he was asked Friday about recent infighting in the Democratic party, where freshman Rep. Alexandria Ocasio-Cortez and Pelosi have been trading jabs publicly. Ocasio-Cortez said this week that Pelosi has been "outright disrespectful" by "the explicit singling out of newly elected women of color."
Trump began his defense of Pelosi by shortening Ocasio-Cortez's last name, and saying she's the one who's been disrespectful.
"I think Cortez is being very disrespectful to somebody that's been there a long time. I deal with Nancy Pelosi a lot, and we go back and forth and it's fine. But I think that a group of people is being very disrespectful to her, and you know what? I don't think that Nancy can let that go on," Trump said, referring to Ocasio-Cortez's fellow freshmen progressive Democrats.
He then took a shot at another member of that group, Rep. Ilhan Omar, who like Ocasio-Cortez has become a favored target of Republicans.
"A group of people that came from — I don't know where they came from — I'm looking at this Omar from Minnesota. And if one half of the things they're saying about her are true, she shouldn't even be in office," he said of the Somali refugee, who came to the U.S. when she was 12.
"Cortez should treat Nancy Pelosi with respect," Trump continued. "She should not be doing what she's doing. And I'll tell you something about Nancy Pelosi that you know better than I do. She is not a racist, okay? She is not a racist. For them to call her a racist is a disgrace."
Democratic presidential candidate Harris, in an appearance on the popular "Breakfast Club" radio show, was asked why Ocasio-Cortez has become a polarizing figure "to older Democrats."
"I think she is bold and smart as anything," Harris said. "She's not gonna go with status quo because that's the way it's always been done. She questions it, and I think that's healthy. I think that's healthy and then if you can defend what we've always been doing, then that's great. And if you can't because it's based on stuff that is faulty or it's older and it's not happening anymore, then answer for that."
Asked about AOC's comments on Pelosi, Harris said, "That's not my experience with Nancy Pelosi and I've known her and worked with her for years. I've known her to be very respectful of women of color and very supportive of them, so I have a different experience."
Pelosi has been publicly dismissive of the progressive group, telling The New York Times last week, "All these people have their public whatever and their Twitter world. But they didn't have any following. They're four people, and that's how many votes they got."
On Thursday, Pelosi told reporters she respects all of her members. "Diversity is our strength. Unity is our power," she said.
Asked by a reporter Friday if she'd been "playing the race card" against Pelosi, Ocasio-Cortez replied, "What? That's stupidly untrue."