Call to raid Area 51 military zone draws hordes of alien hunters
Comments
By Tom Metcalfe with NBC News Tech and Science News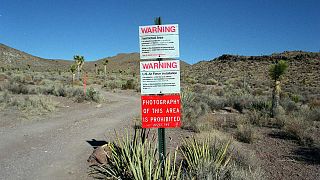 Copyright

James Aylott Getty Images file

-
Half a million people have signed up for a Facebook event to "storm" the Area 51 military base in southeastern Nevada, which has captivated generations of conspiracy theorists convinced that the 4,000-square-mile patch of desert might hold advanced technology from space aliens who have visited our planet.
The call to join the event — labeled "Storm Area 51: They Can't Stop All of Us" — is a presumably playful invitation for a volunteer army to raid the Air Force base around dawn Sept. 20.
According to the event's organizers — who otherwise seem interested mainly in Internet memes and video games — the raid will require the invaders to run "faster than their bullets," but it will be worth it to "see them aliens."
An Air Force spokesperson said the service branch was aware of the Facebook post but declined to provide additional comment.
For decades, alien hunters and conspiracy theorists have been saying that government officials are using Area 51 to store and possibly test alien spacecraft. If that's the case, the officials have never 'fessed up. And military historians and scientists involved in the search for extraterrestrial intelligence(SETI) dismiss the conspiracy theorists' claims.
"Area 51, as a rationale in support of visiting aliens, is an argument from ignorance," Seth Shostak, senior astronomer at the SETI Institute in Mountain View, California, said in an email. "Yes, Virginia, there really are extraterrestrials, but they're in a place where you can't see them. That's not very convincing."
Area 51 is officially an outpost of Edwards Air Force Base in California. The site was first used for development and testing of the U2 spy plane in the early 1950s, said Chris Pocock, a London-based journalist who has written several histories of the U2. He said CIA officials and employees of Lockheed Skunk Works — the California-based engineering program that built the U2 — picked the remote location near the Nevada nuclear test site as a suitable place for the secret project.
"It was out of sight of anywhere else," he said. "A dry lake, surrounded by high ground, so it was ideal — it was completely desolate."
The U2 program left Area 51 in 1957. Later the site was used for testing of other advanced military aircraft, including the supersonic SR 71 "Blackbird" and the F-117 stealth fighter, according to Pocock.
By maintaining the secret site and restricting public access to it, the government has fueled all manner of speculation about what might be going on at Area 51. In addition to the claims about alien spacecraft, some people think the secret facility was used to fake the Apollo moon landings.
Space
"It is kind of ironic, because Area 51 was never involved with anything like that," said Peter Merlin, a Los Angeles-based aerospace historian who has written extensively about Area 51. "But because of the secrecy surrounding it, it has sort of become this blackboard on which you can pretty much draw anything you want, and that's what the conspiracy theorists have done."
The facility is "strictly a place for testing and evaluating aircraft and associated weapons systems," Merlin said, adding that anyone who actually shows up on Sept. 20 may find the biggest threats they face won't be bullets but the unforgiving desert terrain.
"The security guards could just sit back and wait," he said. "They don't have to do anything if they don't want to. The desert will take care of these people."
Want more stories about space aliens?
SIGN UP FOR THE MACH NEWSLETTER AND FOLLOW NBC NEWS MACH ON TWITTER, FACEBOOK, AND INSTAGRAM.