Watch: Heavy Metal Knitting World Championships from Finland
Comments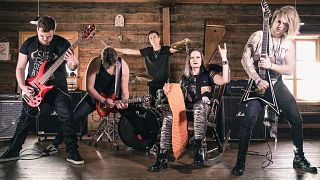 Copyright

Joona Kotilainen

-

Joona Kotilainen
They are definitely not natural bedfellows.
But heavy metal music and knitting came together in a bizarre championship in Finland on Thursday.
It saw the needles come out on stage as musicians played a high-decibel soundtrack.
Welcome to the first official Heavy Metal Knitting World Championships.
You can watch footage of the event in the video player, above, which competitors take part from Latvia, Sweden, Japan, Russia, the UK, Denmark, the US and of course, Finland.
Both heavy metal and knitting are popular in Finland. Finland is renowned for the hardcore genre of music, with roughly 53 heavy metal musicians per 100,000 people.
The thrash metal band Maniac Abductor will be performing as part of the championships. The competition is taking place in Joensuu where the band is based.
"In heavy metal knitting, the knitter becomes a part of the band, showing their best needlework tricks as the heavy riffs echo in the background," reads a website promoting the event.