American scientist who vanished in Greece found dead
Comments
By Elisha Fieldstadt with NBC News World News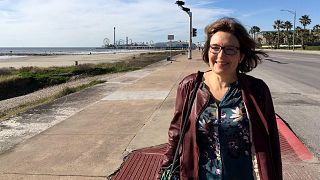 -
The body of an American scientist who went missing while at a conference in Greece last week was found Monday, according to authorities and her colleagues.
Suzanne Eaton, 59, a molecular biologist from California, was found dead by police in an area of caves and abandoned shooting ranges in Platanias on the island of Crete, said the deputy mayor of the village, Kostas Bebelidakis.
Eaton vanished on July 2. Her colleagues believe she had gone for a job as her running shoes were missing. Bebelidakis said the area near where Eaton's body was found is a popular trekking site.
Crete is Greece's largest island and a popular tourist destination. Eaton, a scientist with the Max Planck Institute in Dresden, Germany, was there for a conference at the Orthodox Academy in the village of Kolymbari, outside Chania.
Police, firefighters and local volunteers launched a search following the disappearance, and Eaton's husband and two sons had traveled to Crete to help look for her.
The U.S. State Department said Tuesday that they were aware that a body had been recovered in Greece and they were working with authorities.
A statement from the Max Planck Institute said authorities were investigating what led to Eaton's death.
"We are deeply shocked and disturbed by this tragic event. Suzanne was an outstanding and inspiring scientist, a loving spouse and mother, an athlete as well as a truly wonderful person beloved to us all," the statement said. "Her loss is unbearable."
The institute described Eaton as a leading scientist in her field, who had earned a doctorate in microbiology from the University of California, Los Angeles. She was also a runner and a senior black belt in Tae Kwon Do.