UK backs ambassador to Washington despite furious Trump tweets
Comments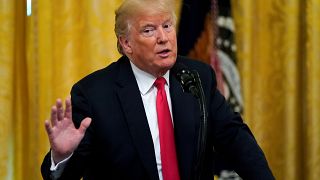 Copyright

REUTERS/Kevin Lamarque/File Photo
Prime Minister Theresa May gave her "full support" to Britain's top diplomat in Washington on Tuesday as Donald Trump attacked the "wacky Ambassador" whose leaked memos have described the US president's administration as "inept".
Ambassador Kim Darroch continues to carry out his duties with May's full support, the British Prime Minister's spokesman said after Trump announced on Monday he would no longer deal with Britain's envoy.
"Sir Kim continues to have the prime minister's full support ... He continues to carry out his duties with the full support of the PM," May's spokesman said, adding that she reiterated to her ministers that the leak was unacceptable.
'A pompous fool'
Trump fired off a further series of tweets on Tuesday in which he described Darroch as a "wacky Ambassador", "a very stupid guy" and "a pompous fool", all while slamming May for her handling of Brexit.
"I do not know the Ambassador, but he is not liked or well thought of within the US We will no longer deal with him," Trump said in an earlier Twitter post on Monday.
He also criticised outgoing Prime Minister Theresa May, describing her way of conducting Brexit as "a mess".
May's spokesman said the leaked documents were not reflective of many of the diplomatic notes Darroch sent and that May told her ministers Britain and the United States would continue to have a special and enduring relationship.
Hunt and Johnson at odds
Boris Johnson and Jeremy Hunt, the final two contenders aiming to replace Theresa May as party leader and prime minister, expressed differing views on how to deal with the scandal.
Hunt, who is also UK's foreign minister, challenged Trump over his criticisms of the British ambassador to Washington whose confidential comments on Trump were leaked. He said the US President's comments were "disrespectful and wrong" to May and the country.
"You said the UK/US alliance was the greatest in history and I agree," he said on Twitter. "But allies need to treat each other with respect as @theresa_may has always done with you.
Ambassadors are appointed by the UK government and if I become PM our Ambassador stays."
Hunt said if he becomes Prime Minister, the ambassador, Kim Darroch, would remain in his post.
Asked whether Ambassador Darroch would keep his job if he became Prime Minister, Johnson declined to offer the same guarantee and just said he and alone would make such a decision.
"I have a very good relationship with the White House," Johnson said in a TV debate on Tuesday, before emphasizing the importance of the special relationship.
What was in the leaked memos?
In memos to the British government which date from 2017 to the present, Kim Darroch, said Trump "radiates insecurity" and advises officials in London that to deal with him effectively "you need to make your points simple, even blunt."
Darroch reportedly said Trump's presidency could "crash and burn" and "end in disgrace", in the cache of secret cables and briefing notes sent back to Britain seen by the Mail on Sunday
"We don't really believe this administration is going to become substantially more normal; less dysfunctional; less unpredictable; less faction riven; less diplomatically clumsy and inept," Darroch allegedly wrote in one dispatch.
The paper said the most damning comments by Darroch described Trump, who was received by Queen Elizabeth II during a state visit to Britain just last month, as "insecure" and "incompetent".
A memo sent following the controversial visit said the president and his team had been "dazzled" by the visit but warned Britain might not remain "flavour of the month" because "this is still the land of America First".
Read more: London distances itself from ambassador after leaked memos calling Trump administration "inept"
Want more news?