Don't be fooled by Trump's historic-seeming North Korean photo op ǀ View
Comments
By Victor Cha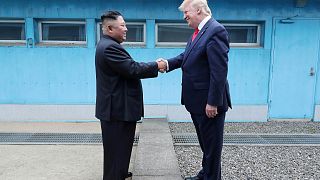 -
Copyright

KCNA via REUTERS
The opinions expressed in this article are those of the author and do not represent in any way the editorial position of Euronews.
This weekend President Donald Trump became the first sitting U.S. president to set foot inside of North Korea, a country the United States has not yet reconciled with since a ceasefire ended the Korean War in 1953. Trump heralded the meeting as "wonderful" and an "honor."
But this made-for-TV event will only be remembered as historic if it leads to an agreement with North Korean leader Kim Jong Un to fully and permanently give up his rogue nuclear weapons arsenal and ballistic missiles. Otherwise, the meeting is nothing more than a photo opportunity and media spectacle.
And one has to ask, what is really different this time that should make us confident that Trump will succeed when all of his predecessors — going back to President George H.W. Bush — could not? Ultimately, the likelihood that a deal will happen rests solely on an intangible that Trump has brought to the decades-old problem.
Despite saying otherwise, Trump does not deserve credit for de-escalating war with North Korea. This gross re-writing of history conflicts entirely with the events of 2017, when Trump nearly stumbled into a nuclear war with Kim. He also does not gain kudos for boasting about the spontaneity of his meeting with Kim at the DMZ on Sunday. A week before Trump's trip to Korea, U.S. officials scheduled to appear at our event at the Center for Strategic and International Studies and a number of other venues around Washington suddenly became no-shows because they said it was a "sensitive" time in North Korea, leading many of us to think something was afoot in the Trump-Kim bromance.
Trump does deserve credit for using the DMZ rendezvous to reset relations after the failed summit in Vietnam four months ago, and for showing persistence in his diplomatic outreach despite recent North Korean ballistic missile tests. And he finally will allow the working-level experts, who shared the stage at the news conference, to hammer out the details of a deal that might allow for Kim's visit to the White House, an invitation Trump has already extended.
At the DMZ on Sunday, Trump suggested a willingness to loosen sanctions per Kim's request at the failed Hanoi summit in February. But George W. Bush lifted some sanctions over a decade ago and that did not lead to denuclearization. After the first summit in Singapore in 2018, Trump suspended military exercises between the U.S. and South Korea as a confidence-building measure for Kim, but President Bill Clinton did the same for two years — from 1994 to 1996 — without a denuclearization outcome. Achieving a mutually agreed upon definition of "denuclearization" between Washington and Pyongyang would certainly move the talks forward, but Bush 41, Clinton and Bush 43 all achieved this with the North Koreans without a successful result.
No, the one unique element of the negotiation this time is Trump's personal campaign to befriend and gain the trust of the young leader. Whether it's the oversize "love letters," or Trump giving props to Kim for showing up at the DMZ, it's extraordinary how the leader of the free world has embraced (literally) the world's worst dictator. Is this enough to really change the tide of history on the Korean Peninsula?
The answer became clearer as the two men sat next to each other, taking questions from the press. Trump talked about how the leaders' relationship can achieve great things. Like a CEO trying to close a deal, Trump reached across the table to shake Kim's hands and looked directly and deeply into his eyes. But Kim did not reciprocate in kind, glancing at Trump, but then averting his gaze, looking away, smiling and nodding to the cameras.
Can an insecure dictator like Kim trust anyone? Indeed, does he even understand the concept of trust when he executes his uncles and murders his siblings? Even then it may be possible, but not likely, with a pathological twister of the truth like Donald Trump. As his career in real estate has shown, Trump is about the most untrustworthy partner one can imagine. Moreover, the start of the presidential campaign in the U.S. reduces the level of interest on both sides to make a deal.
For Trump, an agreement (which will almost certainly be imperfect) will be a target for all of his critics. For Kim, locking in a deal with a potentially outgoing president offers little promise. Given all of these factors, despite the heightened expectations, a bromance between the dictator and the president may make only for good theater.
Victor Cha was deputy head of US delegation for the 2007 denuclearization agreement with North Korea. He is author of "The Impossible State North Korea, Past and Future"
This piece was first published by NBC Think.
____________
Are you a recognised expert in your field? At Euronews, we believe all views matter. Contact us at view@euronews.com to send pitches or submissions and be part of the conversation.