Watch: Trump and Kim meet in Vietnam for historic summit
Comments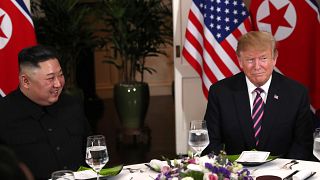 President Donald Trump and North Korean leader Kim Jong Un have wrapped up an evening of meetings in Vietnam after just over two hours.
Trump departed the Sofitel Legend Metropole Hanoi hotel after concluding a 90-minute dinner with Kim and their top advisors Wednesday. Earlier the pair greeted each other warmly and held a brief discussion.
The White House did not immediately provide more information on what it called a "social dinner."
Trump and Kim are scheduled to hold additional meetings with aides on Thursday, before Trump is set to return to the US.
The leaders had a 20-minute one-on-one chat followed by a dinner with aides at the Metropole.
President Donald Trump said in a Twitter message ahead of the summit that he and Kim Jong-un "will try very hard to work something out on Denuclearization & then making North Korea an Economic Powerhouse".
He said he was responding to "false reporting (guessing) on my intentions with respect to North Korea."
Media Access controlled
Four print reporters, including one from The Associated Press, were prohibited from covering the beginning of Trump's dinner with Kim in Hanoi on Wednesday. That came after two of those reporters asked questions of the president during earlier events at the summit.
White House press secretary Sarah Sanders released a statement saying that due to the "sensitive nature of the meetings we have limited the pool for dinner to a smaller group."
Sanders initially said no reporters would be allowed into the dinner. But after photographers said they would not cover it without an editorial presence, one print reporter and a radio reporter were allowed in.
Meanwhile, CNN's White house Correspondent suggested that the Trump administration were being oversensitive regarding the manner of questioning from the broadcaster.