Trump laments NY probe into NRA in second day of complaints about home state
Comments
By Allan Smith with NBC News Politics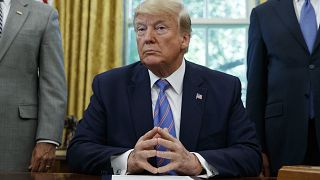 Copyright

Carolyn Kaster AP

-
For the second straight day, President Donald Trump vented online about New York Gov. Andrew Cuomo and state Attorney General Letitia James, this time focusing on the latter's investigation of the National Rifle Association.
"People are fleeing New York like never before," Trump tweeted Tuesday morning. "If they own a business, they are twice as likely to flee. And if they are a victim of harassment by the A.G. of the state, like what they are doing to our great NRA, which I think will move quickly to Texas, where they are loved."
"Texas will defend them & indemnify them against political harassment by New York State and Governor Cuomo," Trump continued. "So many people are leaving New York for Texas and Florida that it is totally under siege. First New York taxes you too high, then they sue you, just to complete the job."
In April, the New York attorney general opened an investigation into the NRA's tax-exempt status. Soon after, the group's then-president, Oliver North, announced he would step down.
Prior to that, North sought to oust the NRA's longtime chief executive, Wayne LaPierre, and said in a letter in the group's annual convention that the organization had "a clear crisis" on its hands that needed to be dealt with "immediately and responsibly." North had formed a committee to investigate any financial improprieties in the organization.
The NRA kerfuffle first spilled out into the public when The Wall Street Journal reported on the strife between North and LaPierre. North said any such financial improprieties could threaten the organization's nonprofit status. Meanwhile, LaPierre accused North of trying to extort him, threatening to release damaging information if the chief executive did not resign.
At the time, Trump tweeted that the NRA needed to "get its act together" because it was "under siege."
Responding to those tweets, James' office said in a statement that the state attorney general "is focused on enforcing the rule of law."
"In any case we pursue, we will follow the facts wherever they may lead," she said. "We wish the President would share our respect for the law."
On Monday, Trump also laid into Cuomo and James, saying in an afternoon tweet storm that the governor is using the state's attorney general to target Trump's businesses for political purposes.
Cuomo responded that Trump "says the most absurd things" and his "strength is not fact or truth."
The governor also noted that the New York attorney general is elected, adding that Trump's "suggestion that it's my attorney general is incorrect."
James tweeted in response that as "the elected AG of NY, I have a sworn duty to protect & uphold state law."
Trump has repeatedly claimed that people and businesses are leaving New York state in record numbers. It's true that people are leaving New York state in record numbers — according to Census data — but it's hard to gauge departing businesses. There's some anecdotal evidence that some businesses might be leaving the Big Apple, but there is also evidence that more than 10,000 businesses open and close in the state each year.