Over 2,700 miles in four months: One fox's sprint stuns researchers
Comments
By Yuliya Talmazan and Caroline Radnofsky with NBC News World News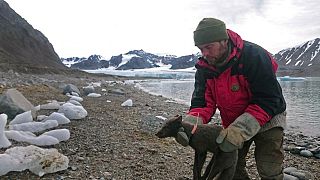 Copyright

Elise Stromseng

-
LONDON — It is the little fox that could.
Norwegian researchers say they were stunned to learn that a juvenile fox managed to cross thousands of miles across the Arctic in just a few months last year.
A group of scientists at the Norwegian Polar Institute say the Arctic fox, a species that can be found all around the Arctic, trekked all the way from Svalbard, a Norwegian archipelago in the Arctic Ocean, into northern Canada at a pace never previously documented by researchers.
The canine had been fitted with a tracking collar in 2017 as part of a larger study looking at the animal's habitat patterns.
Researchers say "their eyes went wide" when they studied satellite data tracking the animal's movements after it left Spitsbergen, the biggest island on Svalbard, on March 26 last year.
In just three weeks, it had covered 940 miles out on the sea ice to arrive in Greenland on April 16.
"We didn't think it was true," researcher Eva Fuglei from the Norwegian Polar Institute said in a post on the organization's website.
Fuglei said they considered all kinds of possible scenarios. First, they thought the fox may have been found dead, had its collar taken off and then taken on a boat.
But then, Fuglei said, they realized there aren't any boats that go so far up into the ice.
"So we had to just follow along and see what the fox did next," she said.
The fox continued to surprise researchers: It didn't end its journey in Greenland, but continued its trek all the way to Ellesmere Island in the far north of Canada.
Researchers say the distance between Spitsbergen in Norway and where it ended up in Canada is 1,112 miles as the crow flies, but including the distance it covered in the weeks before leaving Spitsbergen, it traveled a total of 2,743 miles in four months.
They estimate the fox trekked through long stretches of sea ice in the Arctic Ocean and Greenland's glaciers with an average speed of 28.5 miles per day.
And one stretch, it covered a whopping 96 miles per day, which researchers claim is the fastest movement rate ever recorded for this species.
The animal also had good average speed while it was on the sea ice, researchers say, which may indicate that it used the ice as a "means of transport."
A study describing the fox's impressive trek published last month says there was previously a report of an adult Arctic fox travelling a similar distance, but over a longer period of 5.5 months.
Researchers say the fox's tracking collar stopped working in February and they don't know where it is now.
They warn that the ice, both on land and at sea, was crucial for the fox to undertake its long journey, but a warming global climate is causing sea ice to shrink in the Arctic, which can have serious consequences for wildlife.
"If the sea ice disappears, the arctic fox in Svalbard will become isolated," Fuglei said, adding that it could disrupt its natural migration patterns.
NBC News has reached out the Norwegian Polar Institute for further comment, but was told the lead researcher was in the field and difficult to reach.