Supreme Court to hear legal fight over aid to religious schools
Comments
By Pete Williams with NBC News Politics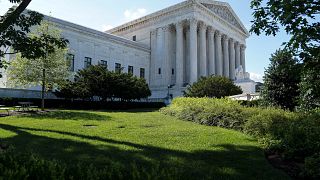 Copyright

Toya Sarno Jordan Reuters

-
WASHINGTON — The U.S. Supreme Court Friday agreed to decide whether Montana can block religiously affiliated schools from a state scholarship program intended to help needy families.
In 2015, the state set up a program to provide a tax credit of up to $150 a year for people and businesses that donate to a scholarship organization. That organization, in turn, doles out money to private schools to help them provide aid to families who want to send their children to private institutions.
Shortly after the program was launched, a state agency imposed a restriction that barred giving any scholarship money to religious schools, invoking a provision of the Montana constitution that prohibits "any direct or indirect appropriation or payment ... to aid any church, school ... controlled in whole or in party by any church."
All three wanted to use the scholarship money to send their children to a Christian school in Kalispell. A lower court declared the restriction unconstitutional, but the Montana Supreme Court reversed that decision.
Lawyers for the women urged the Supreme Court to take the case, arguing that the justices have never squarely ruled on whether the government can block religiously affiliated options from generally available student aid programs.
Montana said in its filings that the court should decline to hear the case. The disputed provisions of its state constitution, adopted in 1889 and revised in 1972, was based on a concern that diverting funds from public schools "would tend to weaken the system in favor of schools established for private or religious purposes."
A state official said 90 percent of the private schools that had signed up for aid under the program were religious.