Russia's Putin declares liberalism in Europe 'obsolete'
Comments
By Patrick Smith with NBC News World News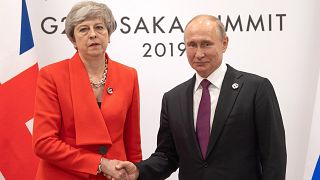 -
LONDON — Russian President Vladimir Putin has declared that the age of a liberal consensus on migration is now over, aligning himself with anti-immigrant, populist movements across the continent.
Putin said in an interview with the Financial Times Friday that the "liberal idea has become obsolete," and referred to Germany's decision to welcome more than one million refugees — many fleeing savage urban warfare in Syria — as a "cardinal mistake."
The Russian premier was speaking on the sidelines of the G-20 conference in Osaka, Japan, where he has met privately with world leaders, including President Donald Trump and U.K. Prime Minister Theresa May.
"This liberal idea presupposes that nothing needs to be done," Putin told the FT. "That migrants can kill, plunder and rape with impunity because their rights as migrants have to be protected.
"Every crime must have its punishment," he said. "The liberal idea has become obsolete. It has come into conflict with the interests of the overwhelming majority of the population."
Several ultra-conservative European leaders, including Hungary's Viktor Orban and Italy's Matteo Salvini, won power with their strident anti-migrant rhetoric.
Relations between Russia and many G-20 nations are strained at best. Two Russian agents were charged by British prosecutors with the poisoning of a former Russian spy, Sergei Skripal, and his daughter in the city of Salisbury in March 2018. The two agents were identified by British officials as working for the GRU, Russia's military intelligence force, although they claimed they were merely tourists.
A British woman later died after her boyfriend, who was also poisoned but survived, found a perfume bottle containing the deadly nerve agent Novichok, which British authorities believe was used in an attempt to kill Skripal. May accused Russia of lying over its part in the poisoning, which it has always denied.
Those agents are the latest Russians accused of carrying out murder or attempted murder on British soilwho are yet to extradited. Andrei Lugovoi, suspected of murdering former Russian spy Alexander Litvinenko in 2007 with a radioactive substance. Lugovoi is now the deputy of the Duma, Russia's parliament.
Like Litvinenko, Skripal had defected to the U.K. and Putin appeared to justify the use of force against traitors.
"Treason is the gravest crime possible and traitors must be punished. I am not saying that the Salisbury incident is the way to do it ... but traitors must be punished," he told the FT.
Despite the diplomatic freeze Putin appeared hopeful of a thawing in relations.
"I think Russia and U.K. are both interested in fully restoring our relations, at least I hope a few preliminary steps will be made," he said.
However, before shaking hands with Putin at a photocall, May had made clear that there could be no "normalization of our bilateral relationship until Russia stops the irresponsible and destabilizing activity that threatens the UK and its allies," a Downing Street spokesperson said.
Earlier, Trump had told reporters that he had a "very, very good relationship" with Putin. Then, in response to a reporter's question about election interference, he told Putin with a smile: "Don't meddle in the election."