Trump immigration official blames migrant father for deaths captured in photo
Comments
By Daniella Silva with NBC News Politics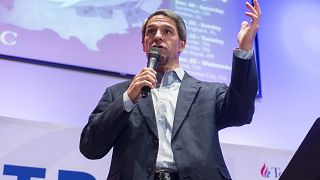 Copyright

Bill Clark CQ-Roll Call/ Getty Images

-
Acting director of U.S. Citizenship and Immigration Services Ken Cuccinelli blamed the migrant father in the drowning death of a Salvadoran man and his 23-month old daughter at the borderthat was captured in a photograph that drew global outrage.
"The reason we have tragedies like that on the border is because those folks, that father didn't want to wait to go through the asylum process in the legal fashion, so decided to cross the river and not only died but his daughter died tragically as well," Cuccinelli said on CNN Thursday night.
Cuccinelli, an immigration hardliner, had been asked if he was worried if the graphic photo of the deaths of Óscar Alberto Martínez Ramírez and his nearly 2-year-old daughter Valeria would become a representation of the Trump administration's policies along the border and replied, no, in fact, just the opposite."
"Until we fix the attractions in our asylum system, people like that father and that child are going to continue to come through a dangerous trip," he said.
President Donald Trump tapped Cuccinelli to serve as the acting director of USCIS, which oversees legal immigration, earlier this month.
Immigration advocates and attorneys say asylum-seekers are increasingly trying to cross the border illegally because of Trump administration policies that restrict the number of migrants who can be processed at legal port of entry per day, known as "metering."
The administration is also forcing an increasing number to wait in Mexico while their asylum cases play out. Migrants have said the long waits put their lives at risk in Mexico, where they live in overcrowded shelters and could be subjected to crime.
Martínez and Valeria died while trying to cross the Rio Grande on Sunday after being swept away in the current, their bodies later photographed face down in the water.
The family had become frustrated and desperate after being unable to present themselves at a legal port of entry in Matamoros, according to the Mexican newspaper La Jornada.
"Neither one of them let each other go. That's how they died, both of them hugging," Rosa Ramírez, Martínez's mother, told Telemundothrough tears from Alta Vista, El Salvador. "He loved his daughter so much. He loved her and that's why he took her."
Ramírez said her son and Valeria's mother, Tania Vanessa Avalo, left El Salvador to provide a better life for their little girl.
"You do not wish this on anyone, that for going in search of the American dream you would lose your life," she said.