Democrats march leftward in first presidential debates
Comments
By Chuck Todd and Mark Murray and Carrie Dann with NBC News Politics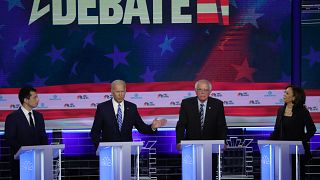 -
Copyright

Drew Angerer Getty Images
MIAMI — Our takeaways from Debate Night Two: Kamala Harris excelled even before her clash with Joe Biden … Bernie Sanders was Bernie Sanders … Pete Buttigieg was solid … Joe Biden was uneven at best … And no one else really stood out.
But maybe the biggest conclusion from both nights is how much more leftward/progressive/liberal the Democratic Party has moved since Barack Obama departed the Oval Office two and half years ago.
Most Democrats still love Obama, but their top 2020 presidential candidates — for the most part — have policies that go well beyond what the 44th president ever proposed.
Of the Top 4 Dem contenders — Biden, Bernie, Harris, Elizabeth Warren — Joe Biden was the only one who didn't raise his hand when asked if they'd abolish private health insurance in favor of a government-run/single-payer plan.
Last night, it appeared everyone raised his or her hand in saying their health plan would provide coverage for undocumented immigrants — which Obamacare currently doesn't.
And much of last night's stage joined Julian Castro and Cory Booker from Wednesday night in supporting making illegal border crossings a CIVIL instead of a CRIMINAL offense. (Harris made it a point in disagreeing with Obama's recording in deporting undocumented immigrants.)
Even on the matter of race and Joe Biden, there was a significant contrast: Twelve years ago, Obama gave Biden a pass after being called "articulate," "bright" and "clean."
Yet last night — in her first debate of 2020 — Harris charged into Biden over his comment about working with segregationist senators in the 1970s, as well as his opposition to bussing policies.
Now a lot has changed since Obama first ran for president in 2007, including the fact that Biden is now a frontrunner when he never was back then.
But the question remains: Can a private-insurance-eliminating, decriminalizing-border-crossings Democrat win outside of California and New York?
Can it play well in Wisconsin or Arizona?
Or how about here in Florida? (Obama was the last major statewide Dem to win the state - twice.)
It's very possible we're going to find out a year and a half from now…
Breaking down last tonight's top moments
Here's what caught our eye from last night:
Harris vs. Biden
Harris: I'm going to now direct this at Vice President Biden, I do not believe you are a racist, and I agree with you when you commit yourself to the importance of finding common ground. But I also believe, and it's personal -- and I was actually very -- it was hurtful to hear you talk about the reputations of two United States senators who built their reputations and career on the segregation of race in this country. And it was not only that, but you also worked with them to oppose busing. And, you know, there was a little girl in California who was part of the second class to integrate her public schools, and she was bussed to school every day. And that little girl was me.
Biden: It's a mischaracterization of my position across the board. I did not praise racists. That is not true, number one. Number two, if we want to have this campaign litigated on who supports civil rights and whether I did or not, I'm happy to do that.
[snip]
Harris: But, Vice President Biden, do you agree today -- do you agree today that you were wrong to oppose bussing in America then? Do you agree?
Biden: I did not oppose bussing in America. What I opposed is bussing ordered by the Department of Education. That's what I opposed.
Buttigieg takes responsibility for almost all-white police force in South Bend
Maddow: Your community of South Bend, Indiana, has recently been in uproar over an officer-involved shooting. The police force in South Bend is now 6 percent black in a city that is 26 percent black. Why has that not improved over your two terms as mayor?
Buttigieg: Because I couldn't get it done. My community is in anguish right now because of an officer-involved shooting, a black man, Eric Logan, killed by a white officer. And I'm not allowed to take sides until the investigation comes back. The officer said he was attacked with a knife, but he didn't have his body camera on. It's a mess. And we're hurting. And I could walk you through all of the things that we have done as a community, all of the steps that we took, from bias training to de-escalation, but it didn't save the life of Eric Logan. And when I look into his mother's eyes, I have to face the fact that nothing that I say will bring him back.
First issue you'd pursue as president?
Swalwell: Ending gun violence
Bennet: Combating climate change, economic mobility
Gillibrand: Family Bill of Rights
Harris: Tax cuts for the middle class
Sanders: A political revolution
Biden: Defeating Trump
Buttigieg: Fixing America's democracy
Yang: $1,000 monthly dividend for every American
Hickenlooper: Combating climate change
Williamson: Calling the prime minister of New Zealand
The international relationship you want to reset?
Williamson: European leaders
Hickenlooper: China
Yang: China
Buttigieg: Allies
Biden: NATO
Sanders: United Nations
Harris: NATO
Gillibrand: Iran
Bennet: European allies and Latin America
Swalwell: Breaking up with Russia, making up with NATO
2020 Vision: Post-debate travel
On the campaign trail today: Kamala Harris, Pete Buttigieg, Kirsten Gillibrand, Julian Castro and John Hickenlooper visit Homestead, Fla… Joe Biden is with Jesse Jackson in Chicago… Bernie Sanders is in Ohio… Beto O'Rourke and Castro have events in Austin, Texas… And Jay Inslee is in Iowa.
Data Download: The number of the day is … 13.6
13.6 minutes.
That's how long former Vice President Biden spoke on the debate stage last night -- the most of any candidate, according to the Washington Post.
Here's how much every other candidate on stage spoke over the past two nights.
Harris: 11.9 minutes
Sanders: 11.0
Booker: 10.9
Buttigieg: 10.5
O'Rourke: 10.3
Warren: 9.3
Castro: 8.8
Klobuchar: 8.5
Bennet: 8.1
Ryan: 7.7
Gillibrand: 7.5
Gabbard: 6.6
Delaney: 6.6
de Blasio: 5.6
Hickenlooper: 5.2
Inslee: 5.0
Williamson: 5.0
Swalwell: 4.3
Yang: 3.0
Tweet of the day
Shameless plug: The Chuck ToddCast from last night!
Don't miss the post-debate podfrom the First Read team last night.
ICYMI: New clips you shouldn't miss
Alex Seitz-Wald wraps last night's most important points of conflict on health care and race.
Here's NBC's fact-check of the night.
Trump — with a smile — told Vladimir Putin: "Don't meddle in the election."
Rex Tillerson says that Jared Kushner left him out of the loop in his talks with Saudis.
For once, on Thursday, Trump was sidelined from the day's biggest political news story.
Debate over the latest border bill is sparking a nasty debate in the Democratic caucus.
2020: About last night
The Washington Post: "Kamala Harris upstages Biden and Sanders with dominating performance."
The New York Times: "Biden comes under attack from all sides in Democratic debate."
The Wall Street Journal:"Biden draws bulk of attacks in second debate."
POLITICO: "Harris stops playing it safe."
The AP: "Rivals target Biden as Democrats' rifts emerge on age, race"
More than 15 million TV viewerswatched the FIRST night of the debate.
Trump agenda: Delaying the Census?
The president is floating the idea of delaying the 2020 Census.
Here's the Washington Poston the ramifications of the Supreme Court's gerrymandering decision.
John Robertsis the new swing vote on the court.