Watch again: NATO Secretary General Jens Stoltenberg says EU allies are delivering on spending
Comments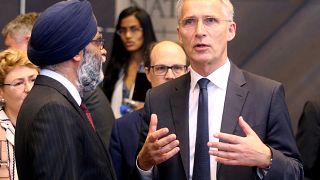 NATO Secretary General Jens Stoltenberg has said European NATO allies are delivering on defence spending, but there is still a "long way to go".
Stoltenberg was speaking after two days of discussions in Brussels with NATO defence ministers.
US President Donald Trump has continued to take aim at EU countries for not paying their fair share to defence spending. In an interview with Fox News on Wednesday, Trump said America pays for close to 100% of NATO, while Germany "doesn't pay what it's supposed to pay."
Read more: Donald Trump blasts Europe ahead of G20 summit
Stoltenberg said his impression was the US "appreciates the progress but wants to push for more."
"NATO allies are delivering" to meet a target of at least 2% of their GDP on defence spending, he said, adding that "fair burden sharing" was key to NATO and that the US understood that.
Stoltenberg also noted that 2019 will be the fifth consecutive year of real growth in defence spending by European Allies and Canada. He said by the end of 2020, Allies will have added a cumulative total of well over $100 billion.
Read more: How much does your nation spend on defence? And what percentage of GDP?
The war of words between Iran and the US
Tension between the US and Iran has mounted in recent weeks after Trump ordered sanctions on Tehran after it shot down a US drone, which Washington said was in international airspace.
Asked about the conflict, Stoltenberg said NATO allies held a "discussion among friends and allies" and that the main conclusion from the talks was to de-escalate tensions between Iran and the US. He said the first step would be for the two nations to start talks.
Stoltenberg added that NATO members agreed Iran should never be allowed to build nuclear weapons.
Peace talks in Afghanistan
Another key subject at the meeting was Afghanistan. The Secretary General said: "While many challenges remain in Afghanistan, we now have a unique opportunity for peace."
He underlined that NATO allies fully support US efforts to achieve a political settlement in Afghanistan. One way NATO will support peace efforts is by launching financial support for Afghan security forces until 2024.
"We will stay in Afghanistan for as long as necessary, to ensure the country never again becomes a safe haven for international terrorists," he said.
On Russia
NATO Ministers had also debated Russia's violation of the INF Treaty, which was established to bring an end to the Cold War. Stoltenberg said on Thursday it is possible for Russia to return to the treaty but only if it gave up producing and deploying SSC-8 missiles.
Read more: Will the nuclear threat return to Europe if Russia scraps INF treaty?
New policy on Space
A new policy was announced on space that will allow NATO to recognise space as a domain of warfare this year.
"We can play an important role as a forum to share information, increase interoperability, and ensure that our missions and operations can call on the support they need," Stoltenberg said.
Want more news?