Booker calls for hearings on ICE's use of solitary confinement
Comments
By Andrew W. Lehren with NBC News Politics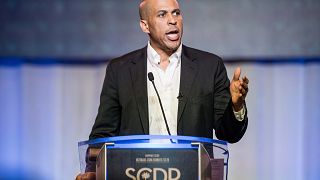 Copyright

Sean Rayford Getty Images file

-
Sen. Cory Booker called on the Senate Judiciary Committee to hold hearings probing solitary confinement in immigration detention, citing an NBC News probe into what he called "egregious and appalling abuses."
The New Jersey Democrat and presidential contender becomes the first member of the Judiciary Committee to call for hearings about Immigration and Customs Enforcement's extensive use of solitary confinement for immigration detainees practices.
He is the third senator to publicly raise concerns, and the second Democratic presidential candidate to question ICE on the matter, after the broadcast and publication of an NBC News investigation, in partnership with the International Consortium of Investigative Journalists and the Intercept, that documented the use of solitary for immigrant detainees held in jails around the country.
The stories documented how detainees with physical disabilities are placed in solitary because they need a prosthetic leg or need a cane or wheelchair. In addition, nearly one in three of detainees documented to have been put in solitary suffered from mental illness. ICE has said the detainees are placed in solitary for security reasons.
Booker cited the accounts by NBC News and its partners, and underscored scientific research that solitary confinement can cause damaging health consequences.
"It appears ICE has been consistently violating its own policy on the use of solitary confinement," he wrote to the chairman of the Judiciary Committee, Sen. Lindsay Graham, a South Carolina Republican.
The Judiciary Committee would typically oversee detention issues like solitary confinement, and Graham would determine the committee's calendar for a hearing on the matter.
Last week, Sen. Elizabeth Warren, a Massachusetts Democrat also running for president, wrote a letter to ICE seeking answers on solitary confinement, especially for those with disabilities and those who are LGBT.
In May, Sen. Richard Blumenthal, a Connecticut Democrat, called for congressional hearings after the publication of the stories.