Ekrem Imamoğlu easily elected new mayor of Istanbul after repeat poll
Comments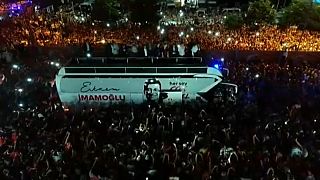 Thousands of supporters of Turkey's Republican People's Party (CHP) filled the centre of Istanbul after the main opposition party's biggest victory for many years.
Ekrem İmamoğlu was elected with ease as the new mayor of Istanbul after repeat elections in Turkey's biggest city. He told cheering supporters that "16 million Istanbul residents have renewed our faith in democracy and refreshed our trust in justice".
"We will embrace everyone. We will build democracy in this city. We will build justice in this city," he said.
The election was Istanbul's second in three months after results of an initial March vote were scrapped, setting up the do-over as a test of Turks' ability to check what many saw as President Recep Tayyip Erdoğan's increasingly authoritarian power.
İmamoğlu's supporters celebrated the new enhanced victory in Taksim Square until the early hours, and in front of the secularist Republican People's Party's offices.
"The elections mean democracy. With this election it is evident once again that democratic processes work in Turkey in the best way, perfectly," said İmamoğlu's AK Party opponent, former Prime Minister Binali Yildirim, who congratulated him and wished him "all the luck" in serving Istanbul, Turkey's commercial hub.
President Erdogan also congratulated İmamoğlu in a tweet, wishing him that the results of the repeat elections would bring good luck.
Either way, the insistence of the ruling AK Party to hold repeat elections in hindsight was a major political mistake.
İmamoğlu secured more than 54% of the votes, increasing the difference over his main opponent by 800,000 votes from 13,000 in the first electoral contest in March, which was later annulled by Turkey's Supreme Council.
International markets also gave a positive reaction to the Istanbul election result with the beleaguered Turkish lira rising.