U.S. cities prepare for possible ICE raids targeting undocumented families
Comments
By Doha Madani with NBC News Politics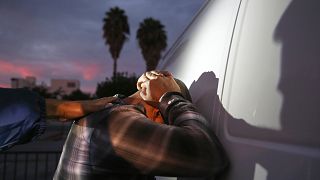 Copyright

John Moore Getty Images file

-
Major U.S. cities from Los Angeles to New York are preparing for immigration authorities to begin mass raids Sunday targeting up to 2,000 people living in the country without legal permission.
Immigration and Customs Enforcement will seek out families facing deportation orders, acting Director Mark Morgan said Friday. The agency has not announced where the roundups will take place, but officials in cities such as Chicago, Houston and Los Angeles released statements Friday opposing the campaign.
Ras J. Baraka, mayor of Newark, New Jersey, fiercely condemned President Donald Trump and the operation, calling it "racist, bigoted, and inhumane." Baraka and the New Jersey Urban Mayors Association said in a joint statement that they were committed to protecting immigrant communities.
"This outrageous tearing of families apart and causing fear in communities across America is clearly a political stunt, coming on the heels of Trump's kick-off of his re-election campaign," they said.
Chicago Mayor Lori Lightfoot said she ordered Chicago police to remove ICE access to city databases related to federal immigration enforcement activities.
"Chicago will always be a welcoming city and a champion for the rights of our immigrant and refugee communities, and I encourage any resident in need of legal aid to contact the National Immigrant Justice Center," Lightfoot said in a statement.
The Los Angeles Police Department confirmed on Twitter that it would not be participating in the raids and that it is "committed to protecting the public through meaningful relationship building."
Houston authorities will neither do ICE's job nor try to impede their work, Mayor Sylvester Turner said, emphasizing the need for comprehensive immigration reform.
"People deserve certainty in their lives, especially those who have been living in our community and making positive contributions," Turner said in his statement. "We are a country that places a high premium on families and we need to be cautious about separating parents from children or uprooting entire families."
New York's Office of Immigration Affairs tweeted a video Friday night addressing the planned raids with a link to a "Know Your Rights" flyer. Bitta Mostofi, the department's commissioner, also reminded residents they are entitled to access to free legal immigration advice funded by the city.
"As always, New York City — your city — stands with you," Mostofi said in the video.