Buttigieg to skip Clyburn fish fry, attend march in South Bend related to fatal police shooting
Comments
By Adam Edelman and Jordan Jackson and Josh Lederman with NBC News Politics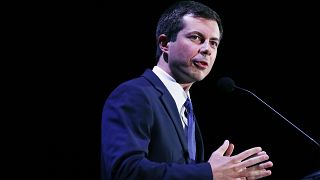 -
Copyright

Brynn Anderson AP
Mayor Pete Buttigieg said Friday he will skip South Carolina Rep. Jim Clyburn's "World Famous Fish Fry" — a prominent event popular among the Palmetto State's African American voters — to return to South Bend, Indiana as the city continues to mourn following the fatal shooting of a black man by a white police officer.
Buttigieg told NBC News that he was leaving the 2020 campaign trail and returning to his city "to promote healing," and that he would participate in a march Friday night related to the shooting.
Buttigieg and others will march at 6 p.m. Friday from the police headquarters in South Bend to the City-County Building, which houses the mayor's office.
"Part of my job is to promote healing and to make sure that members of the community, especially the black community who are concerned with whether they can trust the police, even as details are still coming out about the specific issue," Buttigieg said Friday, following a campaign appearance in Miami.
Buttigieg said his return to South Bend would help make "sure we demonstrate our commitment to transparency, fairness to justice and to healing."
"This evening is one of those moments when a city just needs its mayor," he said.
Buttigieg had been scheduled to attend Clyburn's annual "World Famous Fish Fry" Friday night in Columbia, S.C, which, every four years, amounts to a required pilgrimage for Democrats seeking their party's presidential nomination. South Carolina, whose Democratic primary is one of the first in the nation, boasts a massive African American voting bloc, and the event gives candidates the opportunity to woo them. At least 21 other Democratic candidates are scheduled to attend. Polls in South Carolina and elsewhere have showed that Buttigieg has struggled to attract the support of African American voters, and his attendance at the fish fry was seen as an important opportunity.
Buttigieg's cancellation marked his latest departure from the stump following the fatal officer-involved shooting in his city Sunday morning. The surging candidate canceled scheduled campaign events in New York on Monday and in California on Tuesday andWednesday, returning to South Bend to deal with the fall-out from the shooting. He was back on the campaign trail Thursday.
He was in Miami Friday morning to speak to the National Association of Latino Elected and Appointed Officials, and had been scheduled to travel to South Carolina for the fish fry later in the day.
Instead, he will go back to South Bend and travel to South Carolina on Saturday, for the state's Democratic Party Convention, a Planned Parenthood event and a town hall. He will then go back to South Bend, his campaign said.
Early Sunday morning, a white South Bend police officer shot a black man, who was allegedly armed with a knife, after responding to reports of someone breaking into a car. The officer's body camera was not turned on during the encounter.
An investigation into whether a crime took place has been opened by the St. Joseph County Prosecutor's Office.
The incident came amid long standing tensions in South Bend over policing. Earlier in Buttigieg's term, he demoted the city's first black police chief, Darryl Boykins, who had ordered the taping of phone calls of senior police officers he alleged made racist comments about him.
Buttigieg said he demoted Boykins because he failed to disclose that the FBI was investigating him for inappropriately wiretapping subordinates. The demotion sparked a wave of criticism from the city's black community.