Hope Hicks testifies before House committee behind closed doors
Comments
By Rebecca Shabad and Alex Moe and Mike Memoli with NBC News Politics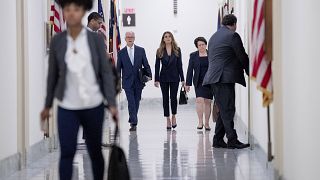 Copyright

Andrew Harnik AP

-
WASHINGTON — President Donald Trump's former aide Hope Hicks arrived on Capitol Hill Wednesday morning to testify behind closed doors before the House Judiciary Committee.
Democrats planned to focus their questions on what they say are five crimes of obstruction of justice established by the Mueller Report against Trump, as well as campaign finance violations involved with alleged election-year hush money payments.
Her appearance marks the first time a former Trump aide has come in to answer questions before that panel as part of Democrats' obstruction of justice investigation. A transcript of the interview will be released, though it may not appear for several days.
Other issues Democrats plan to question Hicks about include Trump's conduct and attitude towards former national security adviser Michael Flynn, Trump's reaction when former Attorney General Jeff Sessions recused himself from the Russia investigation and the firing of former FBI Director James Comey, among others.
In a letter sent to Judiciary Committee Chairman Jerry Nadler, D-N.Y., Tuesday evening, White House Counsel Pat Cipollone asserted that Hicks was not legally required to provide testimony regarding her time working in the White House.
"Ms. Hicks is absolutely immune from being compelled to testify before Congress with respect to matters occurring during her service as a senior adviser to the President," he wrote.
Nadler dismissed those claims. "I reject that assertion" regarding blanket executive privilege, he said in a response released late Tuesday night, adding that after the panel poses questions to her, "we will address privilege and other objections on a question by question basis."
Hicks's testimony comes after the Judiciary Committee issued a subpoena last month for her appearance. She previously served as White House communications director and the White House director of strategic communications after a stint as a senior aide on Trump's 2016 campaign.
The White House directed Hicks and another former White House aide earlier this month not to hand over any documents to the House Judiciary Committee related to their time at the White House.