Iran says its uranium stockpile will breach nuclear deal
Comments
By Associated Press and Reuters with NBC News World News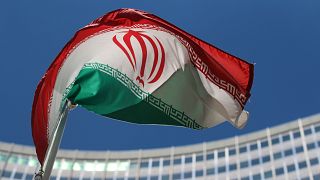 TEHRAN, Iran — Iran said on Monday it would breach internationally agreed curbs on its stock of low-enriched uranium in 10 days, a move likely to strain already high tensions with Washington, but it added European nations still had time to save a landmark nuclear deal.
"We have quadrupled the rate of enrichment and even increased it more recently, so that in 10 days it will bypass the 300 kg (661 pounds) limit," Iran's Atomic Energy Organization spokesman Behrouz Kamalvandi said on state TV.
The announcement indicated Iran's determination to break from the landmark 2015 accord, which has steadily unraveled since the Trump administration pulled America out of the deal last year and re-imposed tough economic sanctions on Iran, sending its economy into free-fall.
Kamalvandi, made the announcement during a press conference with local journalists at Iran's Arak heavy water facility that was carried live on Iranian state television.
News
Tehran said in May it would reduce compliance with the nuclear pact it agreed with world powers in 2015, in protest at the United States' decision to unilaterally pull out of the agreement and reimpose sanctions last year.
The deal aimed to extend the amount of time it would theoretically take Iran to produce enough fissile material for an atomic bomb from several months to a minimum of one year.
However, Kamalvandi added that European countries still had time to save a nuclear deal.
"There is still time for the Europeans... But the Europeans have expressed indirectly their inability to act. They should not think that after 60 days (deadline set in May by Iran), they will have another 60-day opportunity," Kamalvandi said.
Ahead of a meeting of European Union foreign ministers, Germany's foreign minister Heiko Mass said in a tweet that "it's high time for 'diplomacy first'", adding that the E.U. can "contribute to deescalating the situation in the Middle East."
The comments come in the wake of suspected attacks on oil tankers last week in the region, attacks that Washington has blamed on Iran. Tensions have recently spiked between Iran and the United States, a year after President Donald Trump unilaterally withdrew America for the nuclear deal.
Speaking on Fox News Sunday, Secretary of State Mike Pompeo claimed that intelligence officials have "lots of data, lots of evidence" tying Iran to the attacks, though he did not provide any specifics.