Polling: Solid growth in support of abortion
Comments
By Dante Chinni with NBC News Politics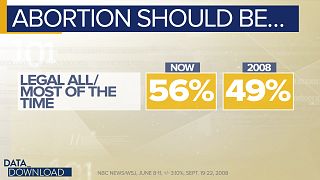 Abortion is always a tense issue in American politics, but this spring it has become a major topic of discussion after several states - Alabama, Georgia, Missouri - tightened restrictions around the procedure. And, judging by the latest NBC News/Wall Street Journal poll, those new laws and the conversation around them may be shifting and hardening attitudes on the issue as 2020 approaches.A look at the long-term numbers shows solid growth in the number of Americans who say the procedure should be legal or legal most of the time. Overall, the number of Americans saying that has climbed seven points since 2008, to 56 percent in the latest poll from 49 percent in September of 2008.
But the consistency of the movement is more remarkable. The percentage of men saying abortion should be legal all or most of the time has climbed two points in that time. Among women it has climbed 11 points. It's climbed 13 points among Democrats and four points among Republicans.In a country where growing divisions have become the main uniting principle, that kind of unidirectional movement is noteworthy.But the Data Download team looked closer at the numbers and we noticed another trend: a hardening of views.The poll asks a question on abortion that walks respondents through a list of options: "Which comes closest to your view on abortion: Abortion should always be legal, should be legal most of the time, should be made illegal except in cases of rape incest and to save the mother's life, or abortion should be made illegal without any exceptions."In the current poll, 34 percent of Americans say they want abortion to always be legal. And that number represents an all-time high in the poll, a three-point climb from the 31 percent who held that view in March of 2018 and a nine-point jump from the 25 percent that held that view in 2008.But there was also movement at the other end of the abortion continuum.
The number of people who said abortion should be illegal without any exception stands at 12 percent in this poll, that's five points higher than where the number was in March of 2018, 7 percent.The drops in the poll came in both of the answers that sit between those ends - abortion "should be legal most of the time, should be made illegal except in cases of rape incest and to save the mother's life." On the whole, the number of people giving either of those answers dropped by eight points.You can probably guess what's driving some of that movement. The partisan divide on abortion is nothing new and it shows up in this hardening of views.
Among "core Democrats" (those that strongly back the party) 58 percent say they want abortion to always be legal. That's a move up eight points from March of 2018. And among "soft Democrats" 45 percent say they want the procedure to always be legal, up four points from March 2018.The numbers are reversed on the GOP side. Among "core Republicans," 27 percent say abortion should be illegal with no exceptions: up nine points from 18 percent in 2018. And 16 percent of "soft Republicans" say they want abortion to be illegal with no exceptions. That's up nine points from seven percent in 2018.But the moves extend beyond simple partisanship. One of the biggest groups showing a hardening of their views on abortion is women and the moves are coming on both ends of the continuum as well.
In the poll, 39 percent of women say abortion should always be legal. That's up from 35 percent who held that view in 2018. But the percentage of women who say they want abortion to be illegal with no exceptions has also climbed to 13 percent, up from just 6 percent in 2018.Again, the drops with women in the poll came in the middle answers that call for some restrictions and exceptions on abortion.To be clear, the latest NBC News/WSJ poll shows a solid majority of Americans believe abortion should be completely or mostly legal. The 56 percent saying holding those views in this poll is a record high for the survey and the second consecutive NBC/WSJ poll where that group has been above 50 percent. That's significant.But underneath, these numbers offer a look at a larger trend that can be seen across the board in U.S. politics in 2019, a falling away of the middle. And as both sides dig in on the opposite ends of the abortion debate, 2019's legislation and conversation may simultaneously be contradictory impacts.The numbers in the latest poll suggest Americans may be moving toward more of a consensus position in favor of abortion rights, but the movement toward more absolute views on both ends of the debate may mean an increase in tensions on one of the nation's most divisive issues.