Huge crowds flood Hong Kong to demand embattled leader step down
Comments
By Laurel Chor and Reuters and Associated Press with NBC News World News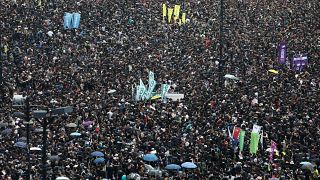 -
HONG KONG — Tens of thousands of black-clad demonstrators took to the streets of Hong Kong on Sunday to demand an end to a proposed extradition bill and the resignation of the city's embattled leader.
On Saturday, Hong Kong's Chief Executive Carrie Lamannounced the government would suspend debate on the extradition bill— a major victory for protesters in the former British colony.
Some demonstrators carried white flowers and others held banners saying, "Do not shoot, we are HongKonger," in a bid prevent the sort of violence that accompanied protests in the semi-autonomous Chinese territory on Wednesday.
But organizers have said they would not back down until the bill was withdrawn altogether.
Demonstrator Janice Leung, 26, became emotional when she said she was "not satisfied" with Lam's response.
Download the NBC News app for breaking news and politics
"Why is it as if she's the only one in the world who doesn't understand? She must step down," the IT professional said.
"Even if she doesn't, once she withdraws the bill, she won't last long — 'upstairs' won't allow it," Leung added, referring to Lam's official backers in Beijing.
When hundreds of thousands marched in Hong Kong last week, crowds demanded the extradition bill be withdrawn and for Lam to step down. Now anger towards police has grown, and many held flowers in honor of a man who fell to his death while staging a solo protest on the roof of a mall on Saturday night.
The crowds cheered when organizers called through a bullhorn for Lam to resign.
That Lam did not condemn police violence has angered many, including Leung. She called on officials to apologize for the treatment of demonstrators, particularly the firing of rubber bullets and tear gas into crowds. The clashes near the heart of the city's financial saw more than 70 people hospitalized.
"I want the police to apologize for the violence they committed against young people. And for the bill to withdraw," she said. "That is a very clear demand, and not negotiable."
Lam's climb down on the extradition bill followed warnings from Western officials, with international business and human rights groups saying the changes would hurt the rule of law in Hong Kong, which was handed back to Chinese rule in 1997 amid guarantees of autonomy.
Hong Kong enjoys greater freedoms than mainland China under a "one country, two systems" framework. Residents can freely surf the internet and participate in public protests, unlike in the mainland. All this could be at risk if Hong Kong imposes the bill that Lam withdrew but did not cancel.
Also at stake is Hong Kong's reputation as an Asian financial hub, and some of the island's tycoons have already started moving their wealth offshore.