Suspects in David Ortiz attack to remain in prison
Comments
By Linda Givetash and Michelle Acevedo with NBC News World News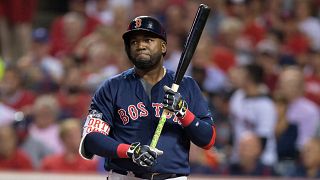 -
The suspects involved in the shooting offormer Boston Red Sox star David Ortizin the Dominican Republic will be held in prison while the investigation continues, officials said.
Nine people have been arrested in connection with the attack in which a single gunman shot Ortiz, 43, once in the back on June 8 at the Dial Bar and Lounge in the eastern part of Santo Domingo.
News
The public prosecutor of Santo Domingo East requested a year of "preventative detention" to continue holding the suspects while the investigation is underway, the attorney general's office said in a statement Friday.
The suspects include Rolfi Ferreira-Cruz, also known as Ramon Martinez Perez, 25, who Dominican authorities said confessed to shooting the former baseball player known affectionately as "Big Papi."
The other suspects are Oliver Moisés Mirabal, Eddy Vladimir Féliz García, Joel Rodríguez de la Cruz, Porfirio Ayendi Dechamps Vásquez, Reynaldo Rodríguez Valenzuela, Lanny Estefanny Pérez Reyes, José Eduardo Ciprián and Carlos Rafael Álvarez.
Ortiz is still recovering from the gunshot, which caused liver damage and required the removal of his gallbladder and part of his intestines. Jhoel López, a local television host who was with Ortiz, was also injured in the leg by the same bullet but was released from the hospital Monday.
Officials have described the attack as "complex" and in Friday's statement said more information about the "masterminds" behind the incident and how it unfolded would be revealed in the following week.