Worshippers in hard hats attend Notre-Dame's first mass since fire
Comments
By Nicole Acevedo and Reuters with NBC News World News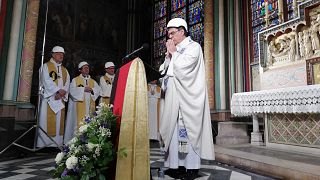 -
Around 30 worshippers clad in hard hats attended the first mass atNotre-Dame Cathedral in Paris since a massive fire at the iconic building.
The Archbishop of Paris, Bishop Michel Aupetit, led the religious service exactly two months since the April 15 blaze.
"This cathedral is born of Christian hope," Aupetit tweeted in French. "[This cathedral] was born also of charity."
The fire that lasted nine hours caused the spire and part of the roof of the architectural masterpiece to collapse, and sparked shock and grief among many around the world.
t
Afterward, among the high-profile people who promised to donate to the rebuilding effort were luxury goods tycoons Bernard Arnault and François-Henri Pinault.
So far, less than 10 percent of the 850 million euros pledged by wealthy individuals, business leaders and others has been received, the French government said.
French President Emmanuel Macron pledged to restore the fire-devastated landmark within five years, even though some experts have estimated the restoration of the jewel of Gothic architecture to last about two decades.