Watch: Commemorations on two-year anniversary of deadly Grenfell fire
Comments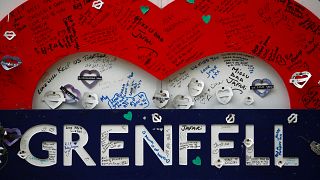 Commemorations took place in London to mark the two-year anniversary of a deadly apartment block blaze.
More than 70 people died after being trapped by a fire that had engulfed Grenfell Tower.
The disaster on June 14, 2017, sparked a political debate about social inequalities in one of the UK capital's richest boroughs.
The commemorations included a private service at the base of the tower where family and friends came together and said prayers.
The names of those lost in the fire were read out during the memorial service.
Many people wore the colour green in remembrance of the victims, and a community flower petal mosaic was unveiled at the foot of the tower.
A criminal investigation is underway that could result in individuals or organisations being charged. A separate public inquiry, which will last many months, aims to establish the causes of the disaster.
Some of the residents who lost their home are still not in permanent accommodation, reports Euronews correspondent Vincent McAviney.
"We must ensure that it can never happen again," tweeted London major Sadiq Khan.
Watch Vincent McAviney's full report in the player above and rewatch the commemorations in the video player below.
More on this subject