House Intel Committee subpoenas Michael Flynn, Rick Gates
Comments
By Adam Edelman with NBC News Politics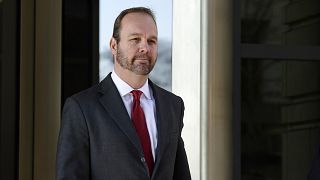 -
Copyright

Susan Walsh AP file
The House Intelligence Committee on Thursday issued subpoenas to former White House national security adviser Michael Flynn and former Trump campaign aide Rick Gates, as part of the panel's probe into Russian interference in the 2016 election.
The subpoenas are for both testimony and documents, the committee's chairman, Rep. Adam Schiff, D-Calif., said in a statement. Flynn and Gates both cooperated with then-special counsel Robert Mueller's investigation into Russian interference and President Donald Trump.
"As part of our oversight work, the House Intelligence Committee is continuing to examine the deep counterintelligence concerns raised in Special Counsel Mueller's report, and that requires speaking directly with the fact witnesses. Both Michael Flynn and Rick Gates were critical witnesses for Special Counsel Mueller's investigation, but so far have refused to cooperate fully with Congress," Schiff said. "That's simply unacceptable. The American people, and the Congress, deserve to hear directly from these two critical witnesses."
Schiff said earlier this week that he wanted his committee to look into crucial questions that Mueller's report failed to address about Trump's relationship with Russia.
NBC News reported last month that Flynn told investigators that people linked to the Trump administration and Congress reached out to him in an effort to interfere in the Russia probe. Flynnpleaded guilty in December 2017 to a charge of lying to the FBI about his conversations with then-Russian ambassador Sergey Kislyak in the weeks before Trump took office. He faces up to six monthsin prison. A judge has yet to set a sentencing date.
Gates, who served as Trump's deputy campaign chairman and deputy chairman of the Trump inaugural committee, agreed to cooperate with Mueller's prosecutors after pleading guilty to hiding money he earned from lobbying work on behalf of pro-Russian groups in Ukraine.
Gates, who is facing up to six years in prison under the terms of his cooperation deal, was the star witness in the financial fraud trial of his longtime partner Paul Manafort.
During Manafort's trial in federal court in Virginia, Gates admitted to tax fraud, extramarital affairs and embezzling money from his former boss and mentor. Gates is still cooperating in "several ongoing investigations," defense lawyers and federal prosecutors said in March.