'Of course I could': Anita Hill says she'd be open to voting for Joe Biden
Comments
By Dareh Gregorian with NBC News Politics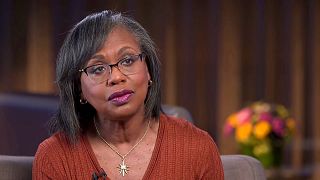 Anita Hill said she considers Joe Biden partly responsible for how she was treated during Supreme Court Justice Clarence Thomas' confirmation hearings in 1991 — but she's still open to voting for him for president.
In a wide-ranging interview with NBC News' Andrea Mitchell, Hill said she's more interested in the former vice president's plans for the future than his apologies for the past.
"I don't think it's a matter of what he could say," Hill said. "For me it's a matter of what we want all of our leaders to say; that is, after almost three decades now of having discovered the problem of sexual harassment, more people understanding it is a serious problem and so prevalent. What I really want our leaders to stand up and say what happened in 1991 will never happen again."
Hill said she wants leaders to "stand up and say that 'I understand this is a serious problem, that women are not safe in the workplace, they're not safe in our schools, they're not safe on our streets.'" She added that she wants leaders to "use the government's resources to eliminate the problems."
Watch Andrea Mitchell's exclusive interview with Anita Hill tonight on "NBC Nightly News With Lester Holt" at 6:30 p.m. ET / 5:30 p.m. CT.
Hill had worked for Thomas at two federal agencies, and she testified at his Supreme Court confirmation hearing that he'd sexually harassed her, which Thomas denied. She was grilled by Republicans in the Judiciary Committee, which was chaired by Biden.
The then-Delaware senator opted not to call witnesses who could have corroborated Hill's story, creating what she called a "he said, she said" situation.
Before Biden announced his bid for the 2020 Democratic presidential nomination, he called Hill to express his regret over how she was treated. She told The New York Times earlier this year that she was not satisfied by the apology, but she told Mitchell she didn't consider Biden's handling of the hearings "disqualifying."
"I don't think it has disqualified him," Hill, now law professor, said. "He's perfectly capable of running for president. I think we will have to make our decisions about what we want our leaders to be doing in the future around these issues of gender violence."
Hill said she does hold Biden responsible for how the hearings were handled because "I believe every chairman of any committee really is responsible for how a hearing is conducted."
Asked if there was any "moral equivalency" between Biden and President Donald Trump, who's denied allegations that he sexually assaulted more than a dozen women over the years, Hill said, "Absolutely not. I never said that and never intended to say that."
When asked if she could conceive of voting for Biden if he is the Democratic nominee in 2020, Hill said, "Of course I could."
Hill would not pick out a favorite from the current 2020 field.
"I would love to see a question about gender violence during the debates," she said, adding that she did not appreciate chatter about female candidates being good vice-presidential picks.
"If you present this picture of them as second, then their arguments for being president are taken less seriously," she said.
Hill also weighed in on Supreme Court Justice Brett Kavanaugh's confirmation hearing, saying she "absolutely" identified with Christine Blasey Ford, who accused him of sexual assault, which Kavanaugh denied.
"She was in the same situation" with "intense pressure," Hill said.
Asked if she'd been in contact with Ford, Hill said, "I have. Not much lately, but I have."
One person she has not been in contact with is Thomas, who accused her of smearing him. Asked if she ever heard from him, Hill said, "No," and, "I don't expect to. And I certainly won't be getting in touch with him."