Watch again: 'Tory leadership race is a total horror show' says SNP's Ian Blackford
Comments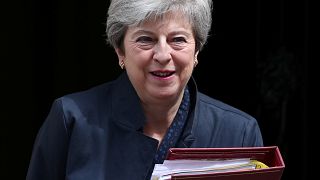 Copyright

REUTERS/Hannah Mckay
A Scottish MP has torn into Westminster politics and branded the race to replace Theresa May a "total horror show".
Ian Blackford, who leads the Scottish National Party in the House of Commons, launched the broadside during Prime Minister's Questions on Wednesday.
He was referring to the 10 Conservative MPs who are in the running to succeed May as the next British prime minister.
Only two of them are women and the contest comes at a time with the clock ticking towards the new Brexit deadline of October 31. 
Blackford said: "The state of politics in this place is humiliating, the Tory leadership race is a total horror show.
"The EU was clear: 'Use the time wisely'. Yet the Tories are obsessing with themselves at the expense of people across these islands."
He added the leadership contest was "an attack on women's rights, tax breaks for the rich paid for by raising national insurance in Scotland and closing down parliament in order to ensure a catastrophic no-deal Brexit can be imposed".
Corbyn and May clash over no-deal Brexit
Earlier, Labour party leader Jeremy Corbyn told outgoing British Prime Minister Theresa May that she needed to remind her party that a no-deal Brexit would be "disastrous for Britain" to which May responded that the Labour leader had increased the chance of a no-deal himself.
"It would come a little bit more sincerely from him if he hadn't gone through the lobbies regularly and consistently voting to increase the chances of no-deal by voting against the deal."
Corbyn reminded May that her deal had been rejected by parliament three times.
"Had you really agreed that we should be leaving the EU and doing it with a deal then he would have voted for the deal," May responded.
May will not comment on decisions Queen might make
Labour's Wess Streeting asked about a possible scenario where a prime minister asks the Queen to suspend parliament even if it goes against the wishes of the House of Commons. He was referring to remarks by candidate Dominic Raab who said he wouldn't rule out proroguing (stopping without dissolving) parliament to push through a no-deal Brexit.
May responded that she would not "speak about decisions the Queen might make".
She added that "governments are able to govern by having control of the business of this House and that's what everyone should recall," alluding to me Labour's bid to seize control of the Commons agenda from the government.
Race to replace May continues
Ten candidates were nominated on Monday in the contest to succeed Theresa May as Conservative Party leader and prime minister, announced the party's 1922 Committee.
The first round of voting to narrow down the race to the final two candidates will take place on Thursday.
Meanwhile, the ten hopefuls are set to make their case in 20-minute individual meetings with the 1922 Committee over the course of the week.
The candidates include: Michael Gove, Jeremy Hunt, Dominic Raab, Mark Harper, Andrea Leadsom and Sajid Javid, Boris Johnson, Matt Hancock, Rory Stewart and Esther McVey
Read more: Final 10 announced in the race to become British PM and Tory leader