Family puzzled after American plummets to death in Iraq
Comments
By Caroline Radnofsky with NBC News World News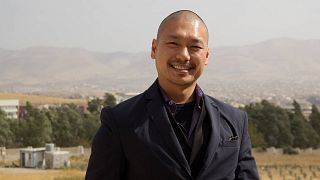 Copyright

The American University of Iraq

-
The brother of an American who fell seven stories from a balcony in Iraq said he is baffled by the fatal fall.
Police in Sulaimaniyah, Iraq, say that Peter Choi, 35, died after using a plastic hose to try to climb from his downstairs neighbor's apartment back into his own, which was a level higher.
The residents of the sixth-floor dwelling were not home at the time, according to local police Capt. Sarkoat Mohammed, who added that it was unclear what had motivated Choi's actions.
The college lecturer died from his injuries later Saturday.
James Choi, 38, told NBC News that he was struggling to comprehend his brother's death and questioned whether foul play might be involved.
"I don't understand why he would do that," James Choi said. "He was a very cautious person."
James Choi said that his brother was getting ready to return to the United States after his final semester at the American University of Iraq, Sulimani, where he had taught academic English for the past five years.
Peter Choi was only days away from his flight back to the United States, where he was planning to live with James and his family in Tacoma, Washington.
"I was in contact with him every day," said James Choi. "He talked about it all the time. He was so excited about it."
James Choi told NBC News that he was waiting for information from U.S. officials in Iraq, which he hoped that would answer questions about what happened to his brother.
"Pete had the biggest heart. He was the greatest person in the world," James Choi said. "He's the kind of person this shouldn't happen to."