Hundreds of thousands march against extradition bill in Hong Kong
Comments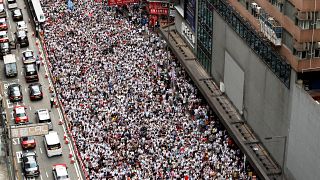 Copyright

REUTERS/Tyrone Siu
Hundreds of thousands of demonstrators took to the streets of Hong Kong on Sunday to protest the proposed extradition law that would allow suspects to be sent to mainland China to face trial.
Riot police surrounded Hong Kong's parliament early on Monday after what had been a peaceful protest against the bill descended into clashes between police and protesters.
Organisers estimated over one million people took part at different points during the demonstration, which would make it the biggest march in over than 20 years. Police said there were 240,000at the march's peak.
Protesters shouted "protect Hong Kong" and chanted "no China extradition, no evil law", calling for Hong Kong's chief executive Carrie Lam to step down.
The movement turned violent as demonstrators charged police lines to try to force their way into the Legislative Council building.
Police, who were equipped with tear gas guns, used pepper spray.
"Foreign forces" want to hurt China by trying to create chaos in Hong Kong over an extradition bill that has prompted mass protests, an official Chinese newspaper said on Monday.
The law was much-needed legislation, Reuters cited The China Daily as saying in an editorial.
"Any fair-minded person would deem the amendment bill a legitimate, sensible and reasonable piece of legislation that would strengthen Hong Kong's rule of law and deliver justice," it read.
"They (protesters) have failed to realize that the opposition camp is using them merely as pawns in its manoeuvres to reap political gains by damaging the SAR government's credibility and reputation, or that some foreign forces are seizing the opportunity to advance their own strategy to hurt China by trying to create havoc in Hong Kong."
It did not say who the foreign forces were.
Human rights groups have said the proposed changes to the law would give China a legal way to take people from Hong Kong into custody and would put people at risk in Hong Kong.
"The proposed changes to the extradition laws will put anyone in Hong Kong doing work related to the mainland at risk," said Sophie Richardson, China director at Human Rights Watch in a statement on June 6. "No one will be safe, including activists, human rights lawyers, journalists, and social workers."
"I joined the march today because I want to take back and fight for the freedom that Hong Kong people are supposed to have," said protester Dorothy Lau.
"There is not much we can do these days. Everyone in Hong Kong would like to have a peaceful life as working class people, and we are all terrified of this law," said Hong Kong resident Chris Kwok, 33.
Human rights groups have said that China's justice system has a record of arbitrary detention, torture and violations of fair trial rights.
Hong Kong officials said Hong Kong courts would have the final say over granting extradition requests, and added that people accused of political and religious-motivated crimes will not be extradited.
The proposal comes on the back of a Hong Kong teenager who allegedly murdered his pregnant girlfriend while on holiday in Taiwan. It was reported that the man fled Taiwan and returned to Hong Kong last year.
Taiwanese officials wanted the help of Hong Kong to extradite the alleged offender, but Hong Kong authorities said they were unable to assist because of little extradition agreements made with Taiwan.
Want more news?