Biden's reversal on Hyde Amendment caps a tough week
Comments
By Chuck Todd and Mark Murray and Carrie Dann with NBC News Politics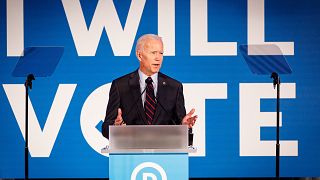 Copyright

Dustin Chambers Getty Images

-
WASHINGTON — So Joe Biden's had a rough week.
It started with that sloppy climate plan rollout — the Biden campaign admitting that it forgot to give proper attribution to some passages in it. (The toplines were also almost identical to Beto O'Rourke's climate plan.)
Then came the pile-on from his Democratic rivals after NBC News reported that the former vice president continued to support the Hyde Amendment, which bars federal funds for abortion services except in the cases of rape, incest or to save the life of the mother
And then last night, Biden reversed course, saying he now opposes the Hyde Amendment — after supporting it for decades.
"I can't justify leaving millions of women without access to the care they need and the ability to ... exercise their constitutionally protected right," he said, per NBC's Mike Memoli.
"If I believe healthcare is a right, as I do, I can no longer support an amendment that makes that right dependent on someone's ZIP code."
The Trump campaign quickly spiked the football on Biden's quick flip-flop.
"He's just not very good at this. Joe Biden is an existential threat to Joe Biden," said the Trump campaign's communications director.
To be fair to Biden, none of these missteps — lifting words for its policy plan (which happens all the time) or flip-flopping on an issue (ditto) — is fatal.
And as we've seen so far, there's a real disconnect between what's playing on Twitter and what rank-and-file Democrats care about.
But we stand by what we said about Biden after he first got into the race back in April:
He's the Democratic front-runner — but a vulnerable one.
As Dem rival Seth Moulton tweeted this morning, "Bravo to @JoeBiden for doing the right thing and reversing his longstanding support for the Hyde Amendment. It takes courage to admit when you're wrong, especially when those decisions affect millions of people."
"Now do the Iraq War."
Tweet of the day
Today's tariff deadline
Talks between U.S. and Mexican negotiators will resume today for a third-straight day, as NBC's Peter Alexander reports.
Administration officials say there has been "significant progress," but they stress that President Trump will have the final say. (He returns home from Europe today, arriving back at the White House, per the White House schedule, at 4:45 pm ET.)
Also, Alexander confirms that Trump faces a deadline today to sign an executive order to impose those tariffs against Mexico starting on Monday.
As a White House official tells Alexander, there is an advance notice requirement; however, it is not binding. In other words, it is necessary to sign that executive order today. But it can still be turned off - avoiding those tariffs - before they would go into effect on Monday.
Sweet Carolina
All of the early looks at the 2020 electoral map have ignored a battleground state that was all the rage back in '16: North Carolina.
And you can argue it has the potential to be a fascinating state to watch over the next year and half.
You have the competitive NC-9 election this September.
It's a presidential battleground whose electoral votes (15) are greater than Wisconsin's and New Hampshire's combined (14). (Yes, Hillary Clinton ultimately lost the state to Trump by 3 points in 2016, but she also led in the pre-Comey polls there.)
Its 2020 Senate race, with Sen. Thom Tillis, R-N.C., up for re-election, could determine if Dems can win back the chamber - if they land a solid recruit there.
Its gubernatorial race, with Democratic Gov. Roy Cooper up for re-election, could be the most competitive 2020 governor's race of the cycle.
And oh, Republicans are having their presidential convention in Charlotte.
2020 Vision: The Iowa Waltz
Almost the entire 2020 Dem field descends on Iowa this weekend, with a whopping 19 (!!!) candidates addressing the Iowa Democratic Party's Hall of Fame event honoring 2018 gubernatorial nominee Fred Hubbell.
The one eyebrow-raising no-show (again): Joe Biden.
On the campaign trail
Today: Beto O'Rourke hits Lacona, Ottumwa and Knoxville… Pete Buttigieg attends a house party in Winterset before speaking at a Matthew Shepherd Scholarship Dinner in Des Moines… Bernie Sanders does a political podcast in Cedar Rapids… John Hickenlooper stumps in West Des Moines and holds a gun safety Q&A in Ankeny… And John Delaney is West Moines… Outside of Iowa, Kamala Harris stumps in Birmingham, Ala.
Saturday: Buttigieg stumps in Des Moines, attends a Pride reception in the city, and does a small business tour in Mason City … Bernie Sanders holds town halls in Marshalltown and Waterloo… O'Rourke runs a Pride 5K Run in Des Moines, holds a town hall in Williamsburg and attends an office opening in Cedar Rapids… Cory Booker hits Des Moines, Ames, and Iowa City… Hickenlooper and Delaney remain in Iowa… Outside of Iowa, Harris remains in Alabama before stumping in South Carolina… Eric Swalwell campaigns in New Hampshire… And Tulsi Gabbard is in New York.
Sunday: Beginning at 2:00 pm ET, Bennet, Booker, Bullock, Buttigieg, De Blasio, Delaney, Gabbard, Gillibrand, Harris, Hickenlooper, Inslee, Klobuchar, O'Rourke, Ryan, Sanders, Swalwell, Warren, Williamson and Yang speak at the Iowa Democrats' Hall of Fame event in Cedar Rapids… Afterward, Sanders holds a rally in Dubuque… Warren attends a house party in Waterloo… And Harris does a town hall in Waterloo.
Data Download: The number of the day is … 46 percent
Forty-six percent.
That's the percentage of the vote that Republican John James — an African-American veteran and businessman — won in the 2018 Michigan Senate race, losing to incumbent Democrat Debbie Stabenow by just over six points.
James is running again in 2020, facing a less well-known Gary Peters in what could be a high-profile race in a must-win state for the Trump campaign.
Republicans haven't won a Senate seat in Michigan since 1994.
The Lid: Leader of the pack
Don't miss the pod from yesterday, when we looked at how the entire Democratic field is itching to take on Joe Biden.
ICYMI: News clips you shouldn't miss
Steve Bullock says he's being "penalized" out of the Democratic debate.
Is the Fed going to cut interest rates to counter the threat from the trade war?
The Washington Post looks at controversy over the Trump children's spending in Europe.
Trump is now calling Nancy Pelosi "a nasty, vindictive, horrible person."
Trump agenda: Disaster averted
Trump has signed the long-delayed disaster relief bill.
Automakers aren't fans of Trump's deregulation efforts around tailpipe pollution standards.
2020: Talk about a man-bites-dog political story
The Koch brothers say they're open to supporting Democrats.
Michael Bennet has a new Iowa state director.
Beto O'Rourke's wife is hitting the trail.
Green advocates are weighing in on Joe Biden's climate plan.
POLITICO profiles Kamala Harris's sister and campaign adviser.