Was the president's visit a smoother ride or have Brits just got Trump-fatigue?
Comments
By Alexander Smith with NBC News World News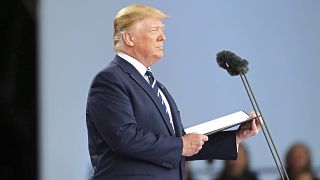 -
LONDON — President Donald Trump began his U.K. and Ireland trip by causing shock, dismay and offense. Moments before he landed in England at the start of the week, he called London Mayor Sadiq Khan a "stone cold loser."
But he leaves it having managed to inflict relatively few diplomatic gaffes on his hosts, during a trip that may be memorable for its lack of Trumpian bluster.
There was still time for some outlandish statements, however. On Wednesday evening in the Republic of Ireland, Trump prompted a collective face-palm with a comment about the sensitive and potentially explosivesituation surrounding the Irish border.
"I think it will all work out very well ... with your wall, your border," the president told Irish Prime Minister Leo Varadkar. "We have a border situation in the United States and you have one over here."
While Trump might dream of a wall spanning the Mexico border, that's the last thing the vast majority of Irish people want.
Varadkar had to jump in and clarify: "The main thing we want to avoid, of course, is a border or a wall."
The Irish republic is a separate country to Northern Ireland, which remains part of the U.K. and will therefore leave the E.U. after Brexit. There are widespread fears a "no-deal" Brexit — something Trump has supported — could see the invisible boundary between the two nations fortified, risking a return to the sectarian violence that plagued Ireland for decades.
And yet, between these outspoken bookends at the start and end of Trump's trip, it has not been quite the diplomatic nightmare that some had predicted.
True, he denied plain facts, claiming there there was only a small protest outside his meeting with British Prime Minister Theresa May, when in fact there raged a demonstration of around 75,000, chanting and waving sometimes profane placards.
Trump suggested he could disrupt Britain's beloved National Health Service as part of a proposed Anglo-American trade deal, called Bette Midler a "washed-up psycho," and may or may not have breached diplomatic protocol by touching Queen Elizabeth II during their state banquet.
But compared with his visit to the U.K. last year — when he humiliated Prime Minister Theresa May with an explosive tabloid interview, published just as she was hosting him at a lavish black-tie dinner — these moments felt relatively minor.
"Everybody expected much worse gaffes, so this trip has seemed moderate by Trump's standards," said Samuel Brazys, an associate politics professor at University College Dublin.
"But it's hard to say whether he has actually been behaving a bit more like a normal president, or it's just that everyone has got Trump-fatigue," he said. "We're all so acclimatized to the gaffes, the insults, and the naivety or lack of knowledge about certain subjects."
Aside fromsome questionable tailoring, Trump's state banquet with the queen went by without a hitch. Elsewhere, he quickly rowed back his comments about the NHS, and paid fitting tributes to veterans at the several events commemorating 75 years since D-Day.
In Portsmouth, where Allied ships departed for Normandy in June 1944, Trump read a prayer originally delivered by President Franklin D. Roosevelt. He paid tribute to those who fought in "what may have been the greatest battle ever," and echoed those sentiments again in northern France itself on Thursday.
Even the protests against him were down from last year. Tuesday's crowds were noticeably smaller than the horde of 250,000 who turned out last year — although a drizzly British summer day played its part.
As well as becoming desensitized to Trump, there's also a sense that Britain is engulfed in so much chaos of its own that the incoming president was more of a sideshow.
The future of Brexit is as uncertain as ever and May is days away from resigning as Conservative party leader ahead of vacating Downing Street in the near future. British political commentators were more keen on determining what impact the president would have on the ongoing race to replace her.
In Ireland, while Trump's comments caused eye-rolls, the government itself will be keen to brush off any sense of a diplomatic rift. Trump may not be popular there, but the Irish economy still relies heavily on the U.S., Brazys said.
"It's a delicate balancing act," he said. "So you just kind of hold your nose."