U.S. veterans thanked on 75th anniversary of D-Day
Comments
By F. Brinley Bruton with NBC News World News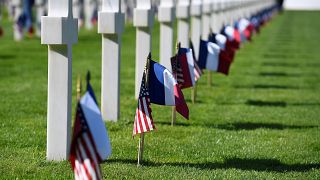 -
COLLEVILLE-SUR-MER, France — Most were little more than boys when they fought in one of the greatest battles in modern history and turned the Nazi tide.And now they are back.At the 75th anniversary celebrations of the D-Day landings — the largest amphibious and airborne invasion in history — returning World War II veterans are treated like rock stars by tourists and locals."Thank you for your service," most say as they shake hands at the Normandy American Cemetery, the resting place for 9,387 Americans, and its surrounding landing beaches. Others simply say, "Merci." Many ask for selfies with the old warriors.President Donald Trump will pay homage to the many fighters who lost their lives and honor returning World War II veterans at a ceremony due to start at 11 a.m. (5 a.m. ET).
Arnold Raymond "Ray" Lambert, 98, has been feted more than most. As a medic in the 16th Infantry Regiment of the army's First Division, he was among the troops that landed on Omaha Beach early on June 6, 1944. They faced especially vicious resistance, and within hours German guns had wounded or killed thousands. Lambert was one of those wounded, but who nonetheless fought to save and shelter fellow soldiers.He shrugs off the bravery he showed that day."We knew that in order to stop Hitler and get rid of the evil things he was doing we had to fight," Lambert told NBC News at a small ceremony in his honor in the town hall of Colleville-sur-Mer on the eve of the Thursday celebrations.
He believes it's important for people to remember what his generation sacrificed."I would like people to remember that we grew up in a time when it was a real Depression," he said. "We freely went to war. We went to war to protect our mothers and fathers and families and country."Lambert is one of a tiny handful here. Some 170 veterans of the Battle of Normandy returned for the celebrations, up to 40 of whom crossed the beaches or landed on June 6.
Alvan Markle III, 100, who served as a captain in the 266th Field Artillery Battalion and landed on Omaha Beach, did not want to remember for decades."I did my best to forget, and now they all want to learn about it," he said as he looked out over Omaha Beach during a tour organized and paid for the World War II Museum in New Orleans.There are many horrors that have stayed with Markle, from the horses that pulled German artillery to the rooms in Buchenwald concentration camp where victims were hung from hooks. Bloody patches showed where men and women in their death throes scratched bloody patches into the plaster. There is one thing he really wants the world to remember."We have, I hope, learned what can happen to a country like Germany with its wonderful talents if their worst people are allowed to be in control," said the resident of Bryn Mawr, Pennsylvania. "It could happen in any country."While this is likely the last major ceremony honoring living veterans of D-Day, younger generations are getting the message.
Jackson Allaman, 18, from Atlanta, Georgia, made the trip especially to honor his great-uncle, who died after the Normandy landings, and lay flowers at his grave."It is important to honor those who have served, specifically those who died in combat because they were willing to risk everything in order to protect their homes and the ones they love," said Allman, who traveled with Normandy with EF Educational Tours. "They also fought … to protect the lives of people they have never known."American veterans are held dear by locals in Normandy too, and the small towns and villages are festooned with American flags. Patrick Thomimes, the mayor of Colleville-sur-Mer where the Normandy American Cemetery lies, put it very simply: "We are very thankful for the Americans who gave up their youth for our freedoms."