Politics set to one side as leaders honour D-Day veterans on 75th anniversary
Comments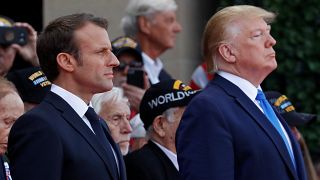 Emotions ran high as world leaders commemorated D-Day in a ceremony marking 75 years since the invasion of Normandy.
President Emmanuel Macron set aside his tense relationship with US President Donald Trump to remember the soldiers and servicemen and women who we owe "our freedom".
Both leaders had embraced overlooking Omaha Beach, remembering 2,500 American soldiers who had lost their lives fighting German military on June 6 in what is considering a turning of the tide in favour of Allied Forces.
"Today we remember those who fell and we honour all who fought right here in Normandy," said Trump, addressing the crowd. "They won back this ground for civilisation."
The US leader added that the servicemen were "among the very greatest Americans who will ever live".
"We thank you from the bottom of our hearts," said Trump.
Trump also praised France, saying: "Thank you for honouring our beloved dead," in what was a sombre speech that drew praise from American TV networks.
Macron had peppered his speech with the need to value allies and work closely with nations.
"America, dear President Trump, is never greater than when fighting for others' freedom," he said, turning to Trump. "When free peoples unite, they can meet all the challenges."
At the age of 97, Léon Gautier, the last remaining French veteran to have personally participated in D-Day, was present and received Macron's thanks and praise.
In an earlier ceremony, Macron and British Prime Minister Theresa May said thank you to D-Day veterans and those who lost their lives.
Macron lent support to the frail 94-year-old Private Russel Pickett, a teenager on D-Day.
Macron, along with May on her final official day as Britain's Prime Minister, laid the cornerstone of a new memorial that will have the names of the thousands of British troops who died on D-Day and the ensuing Battle of Normandy.
A lone piper kicked off the memorial events at sunrise by playing atop the remnants of an artificial harbour built in the Arromanches commune to mark the moment the first British soldier landed on Gold Beach.
Click here to learn more about the main phases of D-Day which was the starting point of Operation Overlord.
Read more
How events unfolded on D-Day's 75th anniversary
Receive our regular newsletter on your smartphone