Britons go to polling stations across UK to vote in European elections
Comments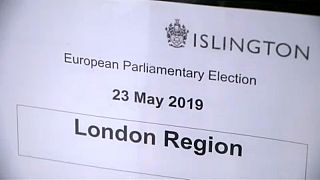 In the midst of Brexit and political uncertainty, Britons went to polling stations across the UK to vote in an election that under normal circumstances they shouldn't even participate in.
The process of voting for European parliamentary elections seems secondary to the political developments that are unfolding in the United Kingdom, after moves by MPs and ministers to remove Theresa May as Prime Minister and widespread talk of new resignations by government ministers.
Britain, which has yet to leave the European Union, will get to elect 73 Euro MPs.
And according to opinion polls, Nigel Farage's Brexit party is expected to secure 30-40% of votes, surpassing the likely combined total of the two main parties, the Conservatives and Labour.
"If we end up leaving at the end of October, then is literally the most pointless waste of money ever. If we don't end up leaving, then is anyone actually voting today," one London resident said.
"Because they said we were supposed to come out at a certain time, because we haven't come out, then we have to go and do this election now. I wouldn't say it's ridiculous, but what can we do. It's down to the politicians and those who we put to represent the country to sort things out," another woman said.
Both analysts and politicians have no doubt that the overwhelming issue in these elections is the division over Brexit. Many angry Tory supporters are expected to support Nigel Farage's Brexit party en mass.
For political analysts this explains the absolute impasse as to how the United Kingdom will leave the EU.