Rudy Giuliani says nationalism is "very natural" during Europe visit
Comments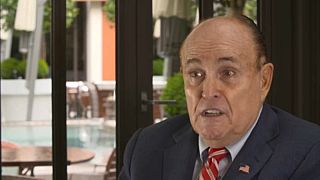 Nationalism is "very natural," Donald Trump's lawyer Rudy Giuliani said on Tuesday during a visit to Europe just days ahead of the EU elections, adding: "If you don't love your country, you're kinda weird."
The former New York mayor, who is a close aide to the U.S. President, told Euronews' Stefan Grobe that the challenge to Europe's internationalist consensus was "maybe good" for debate.
His comments come amid fears that this weekend's EU vote could see success among far-right parties in several countries.
During a brief visit to Paris, Giuliani said the division of powers between states in the U.S.offered a useful model for local decision-making.
"I think it maybe good for Europe that you're having this debate between internationalism and the home country coming first. I guess it's called nationalism, which has a bad meaning because of the historical things to happen with nationalism, but it's a very natural thing for you to love your country. If you don't love your country... you're kinda weird, actually. How much sovereignty do you want to give away and how much don't you want to give away. And coming from a country that has a limited government, where we have states and the Federal government, I'm very comfortable with the local government maintaining a certain degree of sovereignty," Giuliani told Euronews.
In many European countries, the far-right and populist parties are in a position of power, as in the case of Italy, with Matteo Salvini seeing the Euro elections as a first stress test for his rhetoric.
Also, the leaders of many nationalist parties across Europe have already agreed on a common stance against Brussels after the Euro elections.