Salvini and Le Pen rally to unite European nationalists in Milan
Comments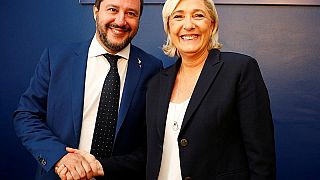 Nationalist parties from across Europe held a rally on Saturday in Milan promising to reshape the continent through next week's EU parliamentary elections.
Headlining the event was Italian Deputy Prime Minister Matteo Salvini and Marine Le Pen of France's National Rally (RN). The two populists are eager for their Europe of Nations and Freedom (ENF) group to become the third largest party in Brussels.
"In the past, Italian politicians used to go abroad asking for lessons on how to change Europe," Salvini said. "Today Europe's change happens through Milan and Italy."
Thousands of flag-waving supporters of Salvini's League party packed a rain-soaked central Milan square to see far-right and anti-immigrant leaders from 11 European Union countries present a common front in their battle to pull back power from Brussels.
Nationalist parties say they are ready for the challenge. Euronews asked Marine Le Pen if she thinks her number one ally is confident to have everyone on board.
"We hope so," said Le Pen, "some within the movement are waiting for the elections for their own reasons to decide which group they will want to join,so I think the number of countries we have today is not definitive. There will be other chances to evolve and probably to become bigger after the elections."
The ENF also includes Austria's Freedom Party, Belgium's Vlaams Belang and the Netherlands' Party for Freedom, whose head Geert Wilders was present in Milan.
But despite their shared dislike of immigration and the EU, Europe's populists remain divided on many key issues on the continent, including budgetary discipline, migrant distribution and relations with Moscow.
Notably absent from the rally was Hungarian Prime Minister Viktor Orban and his Fidesz party. Orban has publicly supported Salvini and promised "cooperation" after the vote, but refuses any form of alliance with Le Pen.
Poland's governing PiS (Law and Justice party) also did not attend the rally, however, smaller parties such as Bulgaria's Volya and Slovakia's Sme Rodina, took place in the event.
Most of Europe's right wing nationalists are currently divided into three blocs and a tangled web of alliances in the European Parliament, which Salvini and Le Pen would like to overhaul if not destroy.
The League is expected to emerge as Italy's largest party for the first time next week as Salvini said he was working night and day for Italy. "If it is necessary, I will give my life for Italy, for my children, for you. I will stop at nothing and for nobody," he said.